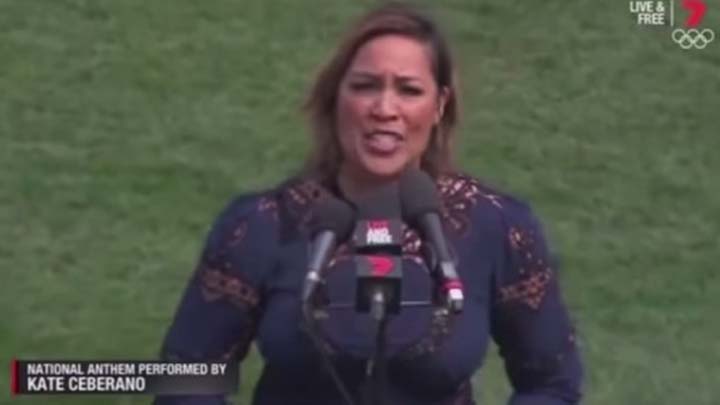 It's one of the biggest days on the Australian sporting calendar, the AFL Grand Final, and millions around the country watch as two teams battle it out to win the title. Another highlight of the game is the entertainment and this year audiences saw Chris Isaak and Ellie Goulding perform, but the name on everyone lips this evening has been Kate Ceberano.
The revered Australian singer is regarded as one of our best voices, so it's no surprise she was given the honour of singing our anthem. But it wasn't to be her best performance in some peoples' eyes, and not because she wasn't singing well…. she accidentally fubbed a line in the anthem.
Guilty as charged to not knowing beyond the second verse of our anthem, and I'm sure many are like me, but it wasn't one of the lesser known lines in Advance Australia Fair that had Kate tongue-tied.
When she meant to sing "In history's page let every stage advance Australia fair" but instead she said 'stage' twice.
She's copped so much flack on Twitter, which you can see below, but we think it's a bit unfair given the pressure she was no doubt under, and getting swept up in the moment.
She responded to the criticism and said she had gotten nervous:
@mnkearney yeah I got a bit nervous ( as you do in front of 100,000 people…or 2 mil) I confess 🙂

— Kate Ceberano (@KateCeberano) October 3, 2015
Take a look at the video yourself and tell us, was it just a mistake? Or should she apologise? https://www.youtube.com/watch?v=XYNmNb9rj84  
Thankyou for all your lovely comments tweet peeps, that was seriously terrifying and fabulous… Go the Hawks!

— Kate Ceberano (@KateCeberano) October 3, 2015
I love you Kate Ceberano, but you only had one job. "In history's stage, let every stage"…. Oh dear #AFLGF

— Dave Thompson (@Thompson_Dave) October 3, 2015
Kate Cebrano – learn the words love you're on national TV!

— Stephen Pellatt (@PellattStephen) October 3, 2015