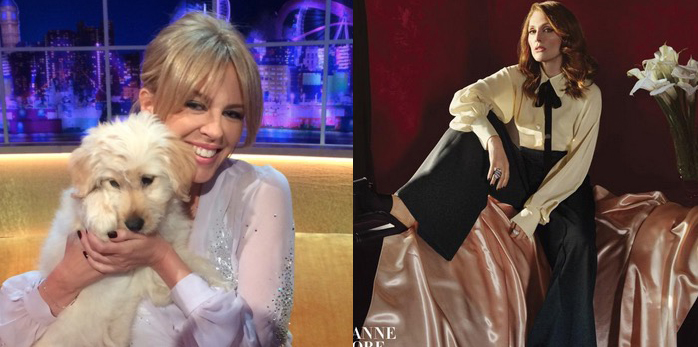 Looking at some of our more famous stars in the media, you'd think some were ageless.  And we've got a selection today.  Who do you think is ageless in Hollywood or other media today… Let's talk!
Madonna, 57 years old this year
Kylie Minogue, on the Jonathan Ross show recently is looking well younger than her 47 years
Annie Lennox, 60 this year, and a stunner! 
George Clooney, Does he ever age?
Julieann Moore on the cover of the latest Harpers Bazaar
Oh Laura, thank u!"The wondrous, Oscar-winning @_juliannemoore is our April cover. @harpersbazaarus pic.twitter.com/US9ZQmp25T"

— Julianne Moore (@_juliannemoore) March 11, 2015
Elle Macpherson, now 51 years old
Happy 51st birthday to our evergreen and ever strong co-founder, Elle. You are a daily inspiration! @ellemacpherson pic.twitter.com/zCf8QAxWKW

— WelleCo. (@superelixir) March 29, 2015
Oprah, who is 61 this year never seems to look a minute older
.@Oprah is celebrating the 15th Anniversary of O Magazine in a very sparkly way: http://t.co/DmbPAHTIbk pic.twitter.com/9t5FZ0bDxj

— WWD (@wwd) April 2, 2015