This Aussie invention could extend an independent lifestyle for years
Sponsored Content
Sponsored
7 months ago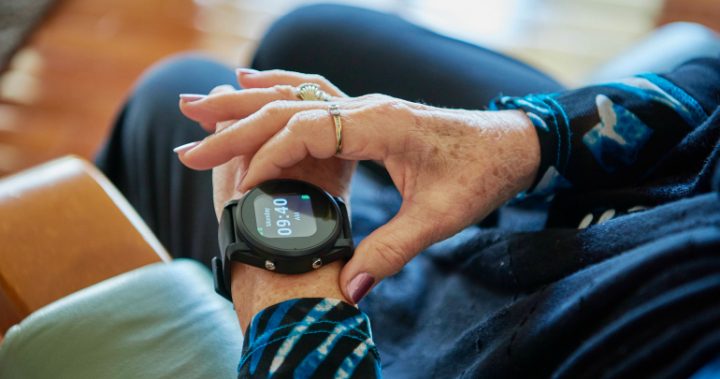 Confirmation of a dementia diagnosis for a parent, spouse or loved one can be a challenging time for any family or carer.
As well as contending with the potential memory loss and behavioural changes of their loved one, the family may also have to deal with the dementia sufferer moving into the territory of 'risky wandering'
According to the Alzheimer's Association, more than three in five dementia sufferers will wander, often becoming disoriented and even lost, or more worryingly, going missing for hours.
Worse still, if the person is not found within 24 hours, up to half of the individuals who wander will suffer serious injury or death.
Understandably, this can be distressing for everyone concerned.
It was about 12 years ago that David Ingerson found himself in this very situation, desperately worried about his father, who had been diagnosed with dementia. His father began to wander, often going missing for hours on end.
Ingerson went searching for a solution that would help him keep an eye on his father, and locate him easily and quickly if he went wandering.
He also wanted a solution that would allow his father to maintain a level of independence outside of the home, which the traditional home-base monitoring systems of the time did not.
A solution born out of a need for security and independence
Frustrated by the lack of suitable options, Ingerson decided to take advantage of the growing interest in wearable technologies and develop his own. The first prototype of the Find-Me Carers Watch launched in late 2008.
Ingerson, alongside Find-Me co-founder Bruce Jeffers, has now worked closely with Australia's leading dementia and aged care groups for over 10 years, to evolve the watch into a combined personal emergency response system, GPS tracker and fall detector – all in a single watch-like device worn by the wearer.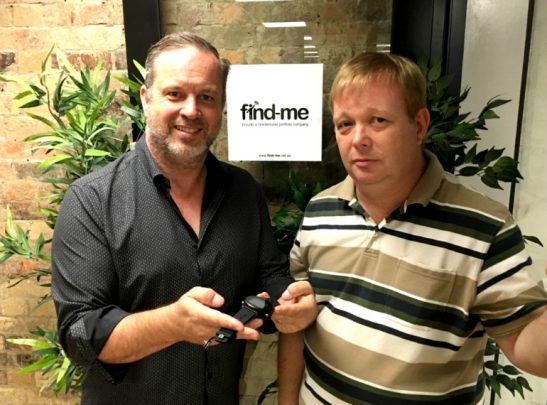 The watch has been designed specifically around the wearer's needs based on a decade of working with industry experts, and feedback from users and their carers.
There are no complicated touchscreens or settings for the wearer to navigate. They simply need to charge it and wear it. This makes it one of the easiest solutions for those with dementia, the elderly, or people that have difficulties understanding technology.
The Find-Me Carers Watch is easy for family members or carers to set up too, and is done through a web page, where they can customise the alerts and check their loved ones' whereabouts at any time.
They can also elect to have the watch (and therefore the wearer) monitored by Tunstall, one of the world's largest and most trusted service providers of assisted living technology. Tunstall's 24-hour Monitoring Centre is staffed by trained care consultants who can assist the wearer if they press the alert button, have a fall or move outside pre-set safety zones.
"Carers no longer have to choose between independence for ageing parents, and peace of mind for themselves," Jeffers says "The Find-Me Carers Watch is an easy-to-use, round-the-clock care solution that offers as much or as little support as required."
After working for so long with focus groups and various health industry bodies, the two entrepreneurs began to see broader applications for the watch.
Not only did it solve the problem of locating wandering dementia sufferers, but Ingerson and Jeffers could see that older and frail people, people with a disability, those who were living with chronic illness, carers, and even anyone who just wanted extra reassurance while at home, work or out in the community, could also benefit from the watch.
A very personal, and long running, real-life trial
Jeffers explains how the watch gave his 90-plus year-old grandmother another six years of independent living.
"She was otherwise relatively healthy, but she was falling in the house and breaking her wrists," Jeffers says.
"She was a stubborn old girl and didn't want to be put into a home, but she didn't want to tell anyone she was having trouble either.
"We said to her that if she wore the watch and we were able to monitor her, that she could stay at home."
Jeffers personally monitored his grandmother's watch for most of the six years she wore it, and said that the biggest benefit was being able to have instant two-way communication with her when she needed help. The watch contains a two-way mobile phone function between the wearer and carer.
"One day, my grandmother was out, and had a fall," he recalls.
"She was able to send an alert to me. I was then able to call the ambulance, provide them with her exact location using the GPS function, speak with her through the watch until help arrived, track her location as she was driven to hospital, and meet her there."
"The watch really gave her true freedom. Knowing that she was one button away from getting help whenever she needed it, and wherever she was, gave her the confidence to get out of the house much more," he adds.
"As someone who never learnt to drive, walking was everything for my grandmother. Wearing the watch was able to facilitate her getting down to the bowls club every Tuesday."
"And once we aligned with the 24×7 monitoring service, the watch didn't just give her freedom, it gave me freedom to be wherever I needed to be, with the peace of mind that she was ok."
Jeffers explains that he was also able to set medication reminders for his grandmother, and receive alerts when the watch battery was running low. All of these options can be customised for the wearer's specific situation.
Now with a fall sensor, removal alert and the ability to be worn in the shower or the rain, this customisation has extended the watch to benefit to a wider range of people and conditions.
"Whether due to vision loss, mobility restrictions, health issues or the onset of dementia, it is hard to watch a fiercely independent loved one losing their freedom," Jeffers says.
"The Find-Me Carers Watch provides true independence for the wearer and peace of mind for the carer."
Has one of your loved ones ever gone wandering? Do you or your parents use home-based monitoring systems or wearable technologies?

Find-me Carers Watch The all-new Find-Me Carers Watch protects those you care for and those you love. The Carers Watch can receive incoming calls from any landline or mobile phone and has an in-built GPS. An alert button can easily connect to you - or to our partner's 24/7 specialist monitoring service - if help is needed.