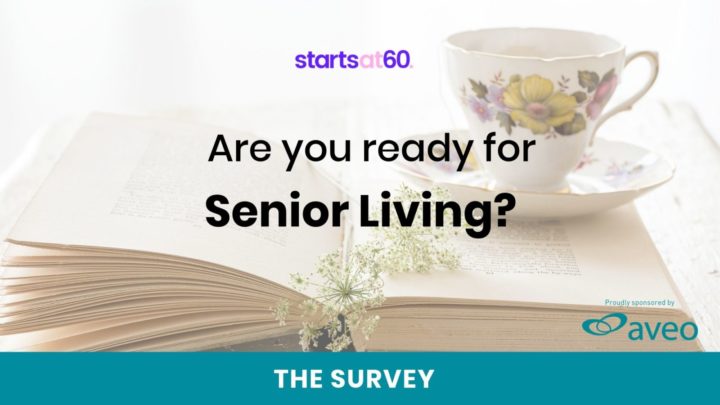 Take the survey to find out if Senior Living is right for you.
All entries go into the draw to win a Floriade and Tulip Time Bowral guided tour for two worth over $2,000 (see more details below)*!
For your chance to win, take the quiz and enter the competition at the end.
*Terms and conditions apply.
COMPETITION TERMS AND CONDITIONS
Information on how to enter and the prize form part of these Terms and Conditions. Participation in this Competition is deemed acceptance of these Terms and Conditions.
The promoter of the Senior Living Survey and Competition is Starts at 60 Pty Ltd; 2/19 Musgrave St, West End, QLD 4101.  The survey is run in partnership with AVEO Group Limited, 6/50 Longland St, Newstead QLD 4006.
Entry is only open to Australian residents aged 18 years or older. Employees (and their Immediate Family Members) of the Promoter or Partner or of any related body corporate of the Promoter or of any agency associated with this Competition are ineligible to enter. "Immediate Family Members" means any of the following: spouse, ex-spouse, de-facto, ex-de-facto, child or step-child (whether natural or by adoption), parent, step-parent, grandparent, step-grandparent, uncle, aunt, niece, nephew, brother, sister, step-brother, step-sister or first cousin. A person who meets the entry criteria described in this clause is known as an Entrant ("Entrant")
Promotional Period: This Competition is made up of a single promotional period. The Promotional Period is: Wednesday 31st July 2019 – 15th September 2019.
Prize winners selected and announced: 18th September 2019
To enter the Competition, an Entrant must complete the 25 words or less field of the Senior Living Survey and Competition.  To enter they must complete the field "Explain in 25 words or less what you want from Senior Living!" and provide their email address and consent to contact them by email.
Each Eligible Entrant warrants and agrees that:
they have created the entry themselves;
they are entitled to reproduce and exploit all underlying works in the entry;
the entry does not, and use or exploitation of the entry by the Promoter (and each of its assignees and licensees) as contemplated by these conditions will not, violate the rights (including copyright and privacy) of any third person;
the entry has not been previously published in any other medium or forum worldwide;
they will not submit material that is unlawful, obscene, defamatory, derogatory, abusive, harmful to any person or entity, or otherwise inappropriate or offensive;
and they have not granted rights to their entry to any other person which is inconsistent with the rights granted to the Promoter under these conditions.
Cost of entry via the internet is free, but internet connection and usage rates may apply. Entrants should obtain details of such costs from their service providers.
Entries must be received during the relevant Promotional Period. The Promoter takes no responsibility for late, lost, incomplete, incorrectly submitted, illegible or misdirected entries or for any delays or failures in any telecommunications service or equipment.
By entering this Competition an Entrant additionally agrees to the Promoter's Online Terms & Privacy Statement, together with any standard terms of use and privacy statements of Facebook.
All entrants consent to have their entry published on the Starts at 60 website at startsat60.com and the Starts at 60 Facebook page and on the AVEO website at aveo.com.au and on the AVEO Facebook page.
Judging of the competition: The Competition is a game of skill and chance plays no part in the selection of the Winners.
Competition Judging to determine the Prize Winners will take place at Starts at 60 Pty Ltd, 2/19 Musgrave St, West End at 12pm on 18th September 2019.
All of the Promoter's decisions in relation to all aspects of this Competition are final and no correspondence will be entered into.
Failure by the Promoter to enforce any of its rights at any stage does not constitute a waiver of those rights.
The winners will be notified by the promoter making contact with the nominee and requesting permission to make contact with the proponent. The Promoter will send the Prize to the winners by email.
The Promoter reserves the right to modify any of these Terms and Conditions in order to comply with changes to Facebook promotional or other promotional guidelines.
The Promoter reserves the right, at any time, to verify the validity of entries and each Entrant (including any Entrant's identity, eligibility and age) and to disqualify any Entrant who has breached the entry criteria explained in these Terms and Conditions.
Except for any liability that cannot be excluded by law, the Promoter (including its officers, employees and agents) excludes all liability (including negligence) for any personal injury or any loss or damage (including loss of opportunity) whether direct, indirect, special or consequential, arising in any way out of the Competition.
Each entrant completely releases Facebook from any and all liability in relation to this Competition and acknowledges that this Competition is in no way sponsored, endorsed or administered by, or associated with, Facebook.
Each entrant completely releases Starts at 60 and AVEO from any and all liability in relation to this Competition or the Prize which is provided under commercial terms by Travel at 60 Pty Ltd as a travel agency.
Privacy Statement. Entrants' personal information is collected from entrants by or on behalf of Starts at 60 Pty Ltd and AVEO Group Limited to enable Starts at 60 Pty Ltd and AVEO Group Limited and their agents to manage, administer and promote the Competition and, where applicable, publicise the winner(s) and to provide ongoing communication with the entrants.  The personal information may also be provided to persons assisting the Promoter, including prize suppliers and deliverers, marketing agencies and IT providers, media outlets and related companies.
The winners' Facebook names will be published on the Starts at 60 Facebook page, and their names and suburbs will also be published on Startsat60.com and AVEO.com.au. By participating in the Competition, Entrants consent to these uses and disclosures of their personal information and consent they have received third party permission to enter the nominee into the competition.
If an Entrant does not provide the personal information the Promoter requests and consent to communicate, they may not be able eligible to enter or win the Competition. All personal information is handled in accordance with these conditions and the Promoter's Privacy Policy. Information about how to access or correct the personal information that the Promoter holds about you, or complain, can be found in the Promoter's Privacy Policy available online at https://startsat60.com/terms-and-conditions
PRIZE INFORMATION
The prize is a trip for two people twin share on a three-day guided tour of Floriade in Canberra and Tulip Time in Bowral.  The tour departs Sydney on 25th September 2020. Prize is valued at $1,039 per person or a total of $2,078+GST.
The package includes:
1 night pre-tour accommodation in Sydney
2 nights accommodation in the Crowne Plaza Canberra
Tour and transportation by luxury coach departing Sydney at 7.30am on day 1 and arriving back at 5pm in Sydney on day 3
Visit to and BBQ lunch at Gold Creek Station on day 1
Dinner at the Crowne Plaza Canberra on day 1
Guided tour of the the Australian War Memorial
Entry into Floriade Canberra on Day 2
Entry into Tulip Time Bowral on Day 3
Prize is valued at $1,039 per person or a total of $2,078+GST.
The prize does not include flights and/or transfers to/from the winner's home to the departure and disembarkation port of Sydney. Any costs associated with transport to/from the departure port will be the responsibility of the winner and will not be borne by the Promoter. Additional excursions or other activities, spending money, additional meals, taxes, insurance, passports, visas, vaccinations, transfers, items of a personal nature, in-room charges and all other ancillary costs are not included. Prize must be taken on 25th September 2020.
The winner or their travelling companion must be over the age of 18.
Each winner and their companion are responsible for ensuring that they have the necessary and valid travel documentation including, passports, any requisite visas and vaccinations. The winner and travel companion will be responsible for any expenses incurred in obtaining necessary travel documentation, including any fines, or penalties incurred as a result of not having the requisite travel documentation. Itinerary to be determined by the Promoter in its absolute discretion. A credit card imprint or cash deposit will be required from the winner prior to travel in order to board the coach, for all incidental charges.
The prize must be taken on 25th September 2020 which will mark the commencement of the tour. The prize is only available on this date and cannot be changed. If the winner and travelling companion are, for whatever reason, unable to travel on the nominated date, or do not take an element of the prize within the time stipulated by the Promoter then that element of the prize will be forfeited by the winner.
Standard terms and conditions of travelling with Travel at 60 and our partners will apply, including any applicable age restrictions on alcohol or gambling as per national and state laws.
Starts at 60 and AVEO reserves the right to refuse to allow a winner and/or his/her travelling companion to take part in any or all aspects of the prize if it determines in its absolute discretion that a winner and/or his/her travelling companion are not in the mental or physical condition necessary to be able to safely participate in the prize, or if they pose a risk to the safety and wellbeing of any other passenger.
If any prize (or part of any prize) is unavailable, Starts at 60 and AVEO, in its discretion, reserves the right to substitute the prize (or that part of the prize) with a prize to the equal value and/or specification, subject to any written directions from a regulatory authority.
Prizes, or any unused portion of a prize, are not transferable or exchangeable and cannot be taken as cash.
There is one holiday for two people to be won. The entries judged to be the best based on (The 'Criteria') will be selected as winners and will receive the prize.
The highlights of this guided tour include:
Sheep Shearing and BBQ Lunch
Guided tour of Parliament House with local expert
Australian War Memorial
Floriade 2020 Canberra
Tulip Time 2020 Bowral
Traditional Devonshire Tea
Inclusions:
Quality accommodation
Travel by luxury coach
Experienced Driver Guide
Airport transfers*
Breakfast (2)
Devonshire Tea (1)
Lunch (1)
Dinner (1)
Note: Flights to and from Sydney not included.