There are many priorities to consider when deciding where to retire. For Geoff and me there were two non-negotiable points. The first was that we wanted to be near the beach. The second was that we wanted potential for a fit, healthy and fun lifestyle.
When Starts at 60 recently asked me to spend a day at Palm Lake Resort Caloundra Cay on the Sunshine Coast, I was eager to check out the possibilities and see what they had to offer. The resort is set in beautifully manicured gardens only 10 minutes from Dicky Beach or Currimundi Lake, so it easily ticked the first box. For the second, I had nearly a full day to immerse myself in the resort, meet some of the locals and join in some activities.
If first impressions are something to go by, this resort is an immediate winner. The development exudes quality without glitz and has a genuine, friendly charm and warmth that cannot be understated. I arrived early and met Jeff and Janelle, who were my guides for the day. They are some of the original residents and have lived in the resort close to two years. It was easy to see how much they enjoy it. Jeff co-ordinates the social club, so he was perfectly placed to provide me with a resident's insight.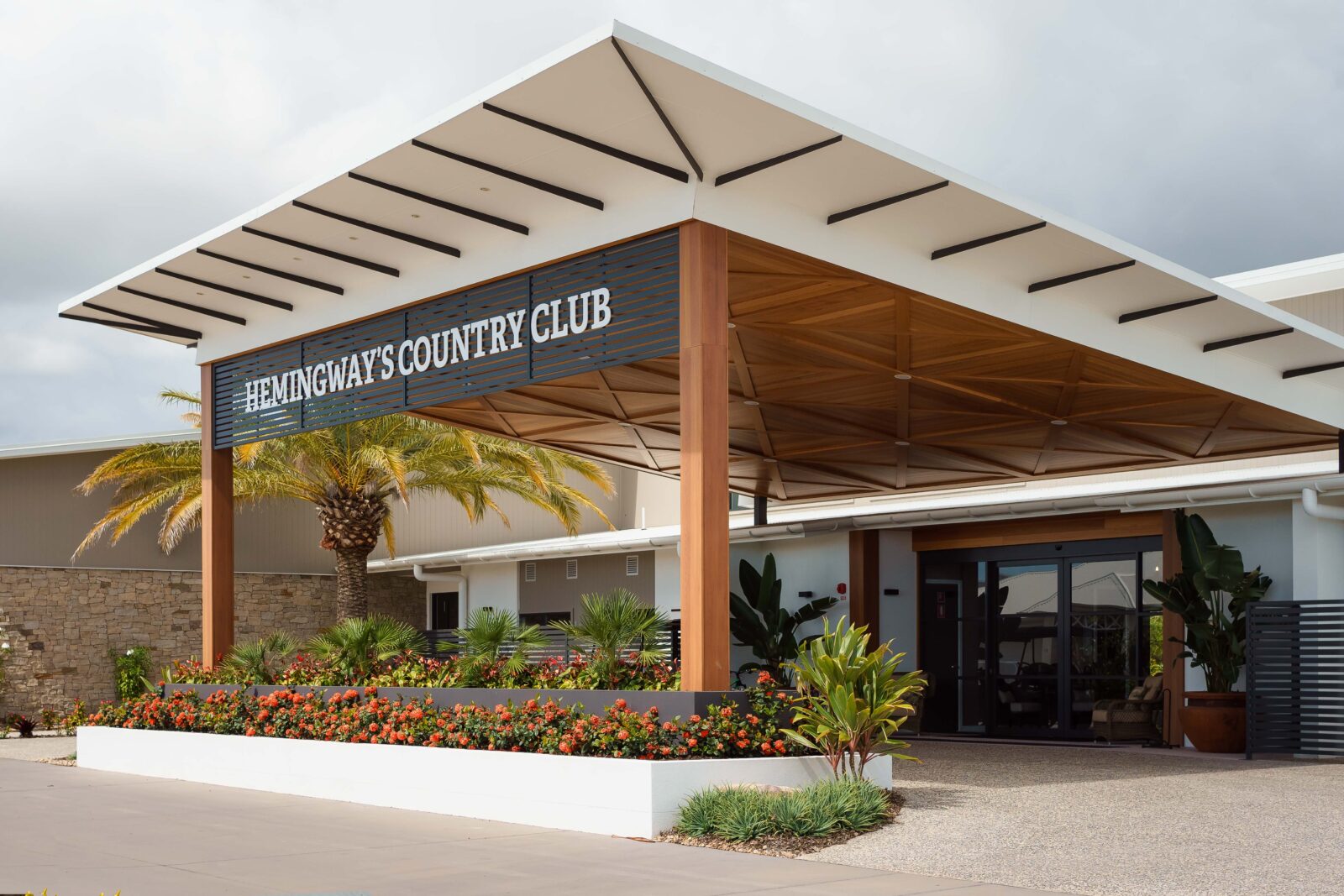 My tour commenced at Hemingway's Country Club, the main clubhouse. This beautiful building is the social centre of the resort and houses an upmarket, casual dining room. In August 2020, Hemingway's Country Club received the prestigious Master Builder's Award for the Best Sporting Facility on the Sunshine Coast. Little wonder, as the facility is spectacular and caters for numerous community activities including Pilates, Dancercise and social functions. The large parquetry dance floor is popular in non-Covid times. The building also houses activity rooms including a well-stocked library; a billiard room with two full-sized billiard tables (apparently Monday afternoon is popular for billiards and darts); a craft room with art equipment as well as sewing machines and overlockers; a music room; gym; spa; and indoor pool heated to 30 degrees celsius! The beautiful Caribbean-style mural at the end of the pool is just one of many stunning artworks throughout the complex. So, if Jeff and Janelle were trying to impress me, they succeeded.
Janelle showed me the theatre with its beautiful leather-studded doors and plush, tiered seating.  Movies are shown Wednesday and Sunday nights and then they have Golden Age of Hollywood Matinees on some Saturday afternoons. This is a superb theatre and residents are justly proud of it.
Moving outside, I found that the tennis and pickleball courts were already busy. I'm a keen tennis player, but pickleball? That was new – and fun. The game is a hybrid of badminton, table tennis and tennis. The small plastic bats were easy to use and the courts smaller than a tennis court. The group of spectators happily explained that you need to have a quick eye, but your feet don't need to be as fast as with tennis. The rules were straight forward, and the most important thing seemed to be to have fun. What a wonderful cheery start to my day.
Another surprise is that all residents have their own detached home with gardens. As you'd expect from the winner of the 2020 Master Builders Award, the 300sqm luxury homes are well constructed and beautifully appointed. These homes are of an exceedingly high standard and feature spacious bedrooms, Smeg appliances and double-car garages. I'd be happy living in any of them. There's a high level of security and safety – as they say in the brochure, it's a lock and leave lifestyle. There are approximately 250 homes on site with plans to expand to about 400, but there is plenty of room and it is a lovely place for family and visitors. To their credit, the developer has constructed the social infrastructure in the first stage of the resort, so there is no waiting for future facilities to come 'one day'– they are already in place, well managed and maintained. I was also pleased to hear that there will be an aged care facility in the next stage.
Next it was off for a spot of ten-pin bowling. The two-lane rink is popular, and bowling, I found, is harder than it looks. It occurred to me that with an in-house alley, I could soon become more proficient.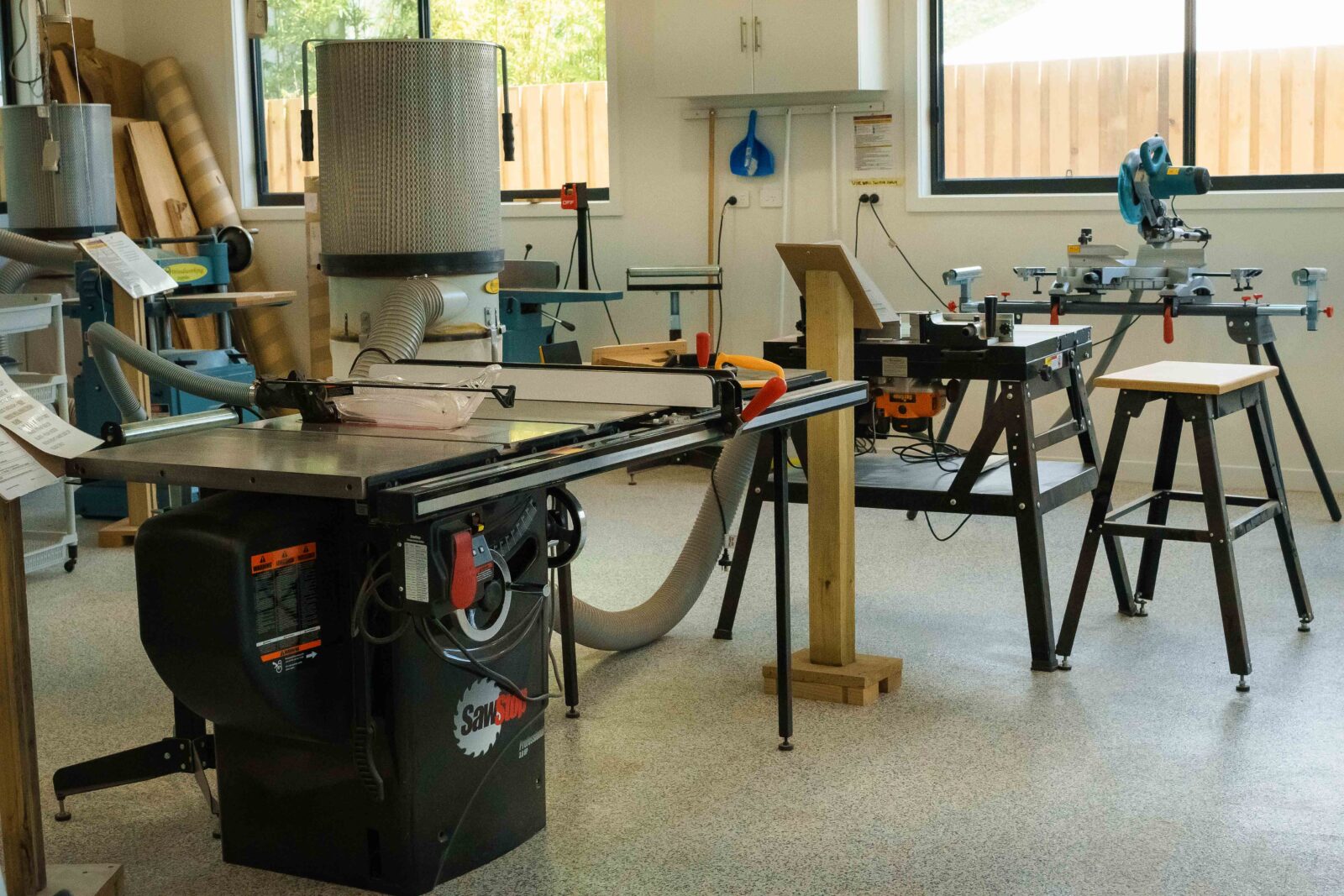 I was mesmerised by the men's shed, or workshop, and stood in the door for some time taking it all in. I didn't recognise most of the high-quality, specialised equipment but it looked impressive. I am sure my Geoff would be in his element here. Jeff and Janelle explained that residents work on their own jobs as well as community projects. Most are keen to pass on their skills and share their knowledge while having a chat, but in addition everyone gets training on how to safely use the equipment. Recently one of the residents held a course in French polishing that was well attended. With the emphasis on men's health these days, I can understand the workshop's popularity. It's not just for the men either. There are several women who attend and turn out some beautiful work.
Oh dear, now for Dancercise! I had committed to join this class, but felt a bit nervous because arm and leg coordination is not one of my strengths. I slunk quietly into the back row hoping no one would notice me, but naturally, on the first dance, we turned around so I that was in the front row at times. The instructor, however, explained the steps well and was patient with those of us whose feet seemed to be always facing the opposite way to the rest of the group, so it didn't take long to feel comfortable amongst everyone. Was it fun? You bet!