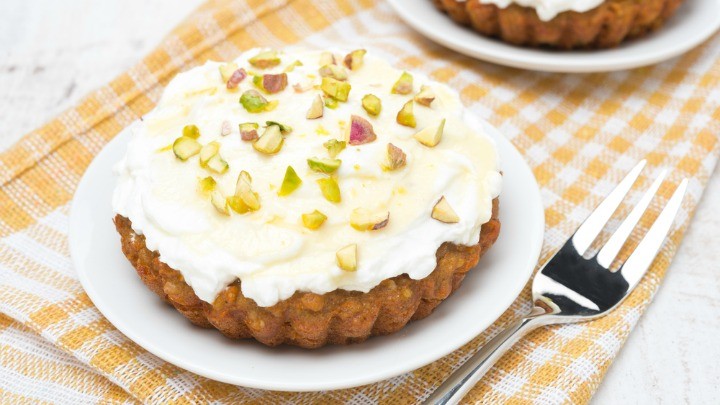 If you are gluten intolerant or simply trying something different this  gluten-free pistachio and orange syrup cakes with delicious orange blossom cream is definitely worth trying. It can be served as a afternoon treat or something to get you through between breakfast and lunch. The best part is that you can make it as individual serves using a muffin tin or you can make one large cake by doubling the mixture and baking it in a 20cm cake pan for 1 hour.
Ingredients
3 eggs
1/2 teaspoon baking powder
Orange blossom cream
3/4 teaspoon orange blossom water
Method
Place the oranges in a small saucepan after washing them, cover with water and bring to the boil. Continue to boil gently for 2 hours, covered and replenish water if needed. Next drain the oranges and set aside to cool down. Slice the oranges into quarters and remove any pips. Place quarters into a food processor and blend until smooth.
Preheat the oven to 140C fan-forced and then line a muffin tin with baking paper after greasing it.
Place the orange, macadamia meal, sugar, eggs, baking powder and pistachio into a large bowl and combine by stirring. Next place a spoonful of mixture into the prepared tin. Bake for about 40 minutes or until it appears golden. A skewer should be able to be inserted into the centre and come out clean. Leave to cool in the pan for 5 minutes before transferring to a wire rack to finish cooling.
To make the syrup combine all the ingredients with an additional 2 tablespoons of water. Place in a small saucepan and stir over a medium heat until the sugar completely dissolves. Next bring to the boil and keep it on high heat for 5 – 7 minutes or until mixture resembles a syrup. Strain the syrup and set aside to cool down.
Make the orange blossom cream by placing the cream and sugar into a bowl and beat with an electric mixer until firm peaks form. Then beat in the orange blossom water and serve the cream with the cake while warm. Don't forget to drizzle the syrup over the cake and sprinkle any extra pistachios you still have.
If you have a recipe you'd like to share with the Starts at 60 community – we'd love to share it! Submit them to us by completing the form below. 
Submit your article here
Comments