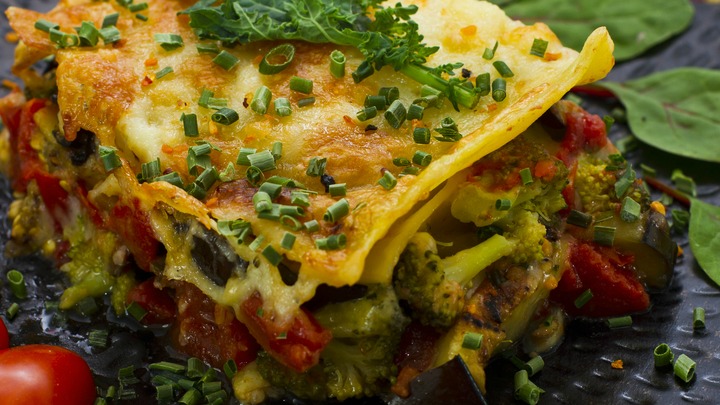 Winter seems to be the time of year when Italian food sounds like a great idea every night. Unfortunately, a lot of Italian dishes are heavy on the carbs and the cheese, meaning you're in for one calorie-laden – albeit delicious – meal. Thankfully, this veggie lasagna is here to save the day and your waistline! It's packed with veggies and skips the fatty white sauce for ricotta instead so it still delivers that amazing creamy goodness. You can serve it up on its own or with a simple side salad if you feel like something extra. Oh, and since you're saving so many calories with the lasagna you can even serve it up with a nice piece of garlic bread!
Ingredients
1 eggplant, cut into small chunks
150g mushroom, chopped
4 roasted capsicums, chopped (you can use jarred or homemade)
200g broccoli, chopped into small pieces
700g pasta sauce
10-12 lasagne sheets
400g frozen spinach, defrosted
250g tub ricotta
25g grated Parmesan
Method
1. Heat oven to 180C/fan 160C/gas 4. Heat 2 tbsp olive oil in a large, non-stick frying pan. Fry the aubergine for 5 mins until softened, then tip into a bowl. Fry the mushrooms in the remaining oil for a few mins until golden, then mix with the aubergine, peppers and broccoli. Spoon half of the veg into a 20 x 30cm baking dish. Spoon over half the pasta sauce, then arrange a layer of lasagne sheets on top.
2. Spread the rest of the veg over the pasta, cover with pasta sauce and another layer of lasagna sheets. Drain any excess liquid from the spinach and mix together with the ricotta and half the Parmesan. Spoon over the top of the tomato sauce, then top with more lasagna sheets and sprinkle over remaining parmesan. Cover with foil, bake for 20 mins, uncover, then bake for another 10 mins until browned. Serve with a crisp green salad.
—————————————————–
If you'd like to see more recipes from Starts at 60, click here. And if you have a recipe you'd like to share with the Starts at 60 community – we'd love to share it! Submit them to us by completing the form below.
Submit your article here
Comments