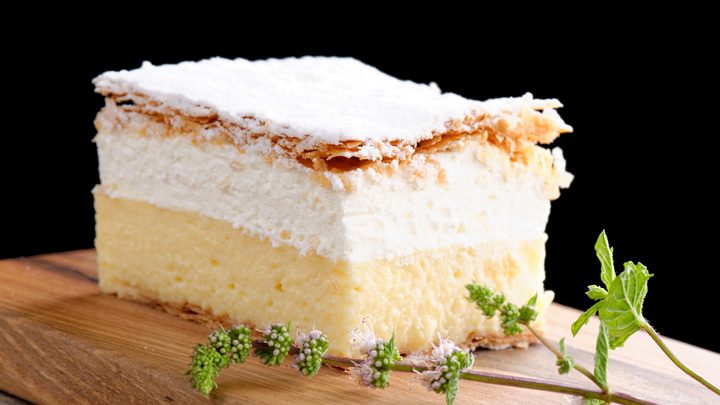 One of the most popular sweet recipes to make, vanilla custard slice is always a people-pleaser. This delicious slice has a creamy layer and a soft custard that just melts in your mouth. Make this winning dessert for friends or simply keep it for yourself and someone special.
It goes wonderfully with some fresh strawberries and cream.
Makes 12
Ingredients
2 sheets of puff pastry, thawed
1.5 cups full cream milk
1.5 cups pouring cream
60 unsalted butter
2 tsp vanilla extract
2/3 cup caster sugar
1/3 cup cornflour
1/2 cup water
6 egg yolks
icing sugar for dusting
Method
Preheat oven to 180ºC. Place the pastry sheets on lined baking trays.
Place non-stick baking paper on top of each pastry sheet and put an additional baking tray on each pastry sheet as a weight. Bake for 20–25 minutes or until golden. Cool on wire racks.
Using a serrated knife, slice the pastry sheets into 22cm squares and set aside.
Place the milk, cream, butter, vanilla and sugar in a saucepan over medium heat and cook until boiling. Remove from the heat then combine the cornflour and water and whisk into the hot milk mixture with the egg yolks. Return to the heat, whisking, and bring to the boil. Cook as you whisk, until thickened.
Place 1 pastry sheet in the base of a lightly greased 22cm-square cake tin lined with non-stick baking paper (that hangs over the edge)
Top with the custard and the remaining pastry sheet and press down gently. Refrigerate for 3–4 hours or until set. Dust with icing sugar.
Note: the picture depicts a slightly different recipe that has a cream layer. This is optional.
Comments