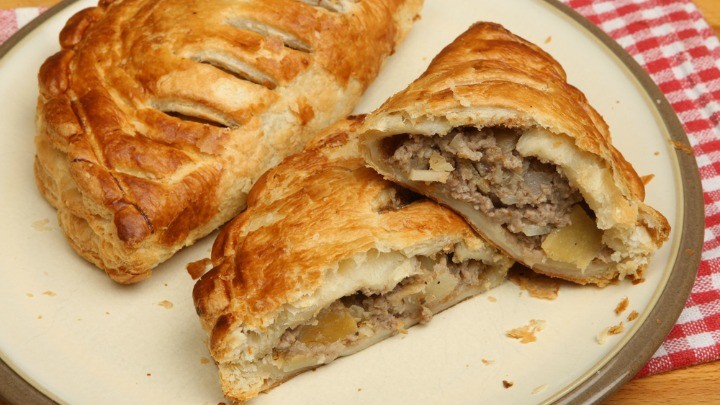 When we think about the ultimate dishes in English cooking it's hard to go past a tasty Cornish pasty fresh from the oven. This recipe calls for a mix of beef mince, worcestershire sauce, and chopped potato and carrot. You can use whatever starchy veggies you have in your crisper though; try turnip, sweet potato, or swede. Wrap it all up in buttery, soft pastry and you've got a winner on your hands!
Ingredients
1 tablespoon olive oil
1 small brown onion, finely chopped 2 garlic cloves, crushed
350g beef mince
1 small potato, peeled, finely chopped
1 carrot, peeled, finely chopped
2 teaspoons cornflour
1/3 cup Campbell's Real Stock Beef
1 tablespoon worcestershire sauce
1 tablespoon tomato sauce
5 sheets ready-rolled frozen shortcrust pastry, partially thawed
1 egg, lightly beaten
Method
1. Heat oil in a non-stick frying pan over medium heat. Add onion. Cook, stirring, for 4 minutes or until soft. Increase heat to high. Add garlic and mince. Cook, stirring, for 2 to 3 minutes or until browned. Add potato and carrot. Cook for 3 minutes or until vegetables are just tender.
2. Combine cornflour and 2 tablespoons stock in a small bowl. Add to pan with remaining stock, worcestershire and tomato sauce. Bring to the boil. Cook, stirring, for 2 minutes or until slightly thickened. Remove from heat. Season with salt and pepper. Set aside to cool.
3. Preheat oven to 200°C. Cut four 12cm (diameter) rounds from each pastry sheet. Spoon 1 tablespoon mince mixture onto each round. Brush edges with egg. Bring pastry edges together to form a semi-circle. Pinch edges to seal and form frills.
4. Place pasties on 2 baking trays lined with baking paper. Brush with egg and bake for 25 to 30 minutes or until golden. Set aside to cool.
————————————————
If you'd like to see more recipes from Starts at 60, click here. And if you have a recipe you'd like to share with the Starts at 60 community – we'd love to share it! Submit them to us by completing the form below.
Submit your article here
Comments