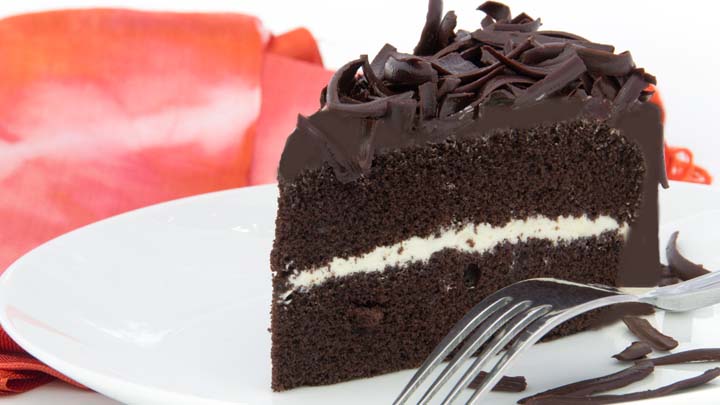 This decadent, rich chocolate cake needs no introduction! It's the perfect special occasion dessert.
You'll love the cream in the middle as well, and despite the ingredients list, this is an easy cake to make.
Give it a go and let us know how it went!
Ingredients
for the cake
85g chocolate chips
1.5 cups brewed coffee
1.5 cups sugar
2.5 cups all purpose flour
1.5 cups unsweetened cocoa powder
2 teaspoons bicarb soda
1 teaspoon baking powder
1 teaspoon salt
3 eggs
3/4 cup vegetable oil
1.5 cups buttermilk, room temperature
1 teaspoon vanilla
for the cream filling
5 tablespoons all purpose flour
1 cup milk
1 teaspoon vanilla
1 cup butter
3/4 cup granulated sugar
for the ganache
350g chocolate chips
1 cup heavy cream
1 tablespoon butter
Method
for the cake
Place chocolate chips in a medium bowl and pour the hot coffee over chocolate. Let sit for 5 minutes then stir, making sure all chocolate is melted and well combined.
Sift all dry ingredients together, including the salt.
In a large mixing bowl, beat eggs until frothy
Slowly add oil, buttermilk, vanilla and chocolate-coffee mixture to eggs, beating well to blend.
Add in the dry mixture, one cup at a time, mixing just to combine after each addition.
Pour batter into two 9-inch cake pans that have been well greased and lined with parchment paper on the bottom.
Bake in a preheated 160 degree oven for 45-50 minutes.
for the cream filling
Pour cold milk into a small saucepan then whisk in flour until smoothy and lump-free. Turn heat on to medium low, and stirring, heat until mixture is thick. Remove from heat, stir in vanilla and let cool completely.
Cream together butter and sugar on medium high speed, until fluffy. Add in the milk mixture and beat again until mixture resembles a whipped cream.
to assemble
Place one layer of cake on an 8 inch cake circle with the top side down. Cover with a thick layer of cream filling then place top layer of cake, top side down, on top of filling gently pressing down to secure layers. Place cake on a wire rack on top of a wax paper lined cookie sheet.
ganache
Heat cream and butter in a saucepan over medium heat until boiling, being careful not to scorch.
Pour heated cream over chocolate chips and let sit for 5 minutes. Stir chocolate to make sure completely melted and smooth.
Slowly pour ganache over top of cake, letting it drip down the sides.
When ganache is set, the cake can be transferred to a serving plate.
Comments