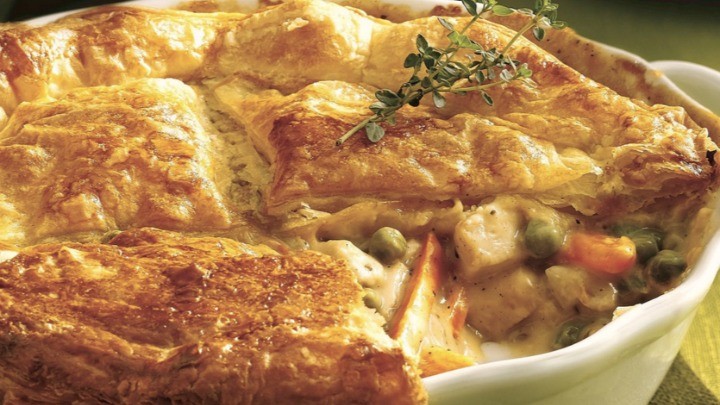 Homemade chicken pie is the perfect dish to whip up for a hearty and comforting dinner. It brings back memories of sitting around the dinner table as a family and tucking into that rich chicken and veggie filling with crispy golden pastry on top.
This recipe is a classic and you can make your own variations to it if you wish, adding whatever vegetables and herbs you feel like. Everything is cooked in one big pot and then transferred to a pie dish, so you barely have anything to wash up at the end of the night!
Ingredients
1kg chicken thighs, cut in thirds
1 onion, coarsely chopped
1 carrot, coarsely chopped
1 celery stick, coarsely chopped
2 garlic cloves, halved
5 thyme sprigs
Salt, to season
80g butter
1/2 cup finely chopped onion, extra
1/2 cup finely chopped carrot, extra
1/2 cup finely chopped celery, extra
1/3 cup plain flour
1/2 cup (125ml) pouring cream
1/2 cup (125ml) milk
1 chicken stock pot (available in the stock section at your supermarket)
1 lemon, zested
1/2 cup frozen peas
5 thyme sprigs, extra
1 sheet frozen butter puff pastry
1 egg
Mixed salad leaves, to serve
Method
1. Combine the chicken, coarsely chopped onion, carrot, celery, garlic, thyme and a large pinch of salt in a large pot. Top with enough water to cover mixture and simmer over medium heat for 10-15 mins until chicken is cooked. Transfer the chicken to a plate and use a fork to coarsely shred. Discard cooking liquid and vegetables.
2. Preheat oven to 180C. Combine the butter, finely chopped onion, carrot and celery in the same pot over medium heat. Cook until the vegetables begin to soften. Add the flour and season with salt and pepper. Cook, stirring, until the flour soaks up the butter. Gradually pour in the cream and milk and whisk until smooth. Add the stock pot and 1 1/4 cup water and whisk to combine. Season with salt and pepper. Remove from heat and stir in the shredded chicken, lemon zest, peas and extra thyme.
3. Transfer the mixture to a 1 1/2 L capacity pie dish. Cover the mixture with pastry and press the edge to enclose the filling. Use a knife to cut a few slits into the pastry. Whisk the egg in a small bowl with a little water. Brush the egg mixture over the pastry. Bake for 30 mins or until top is golden. Serve with mixed salad leaves.
———————————————————————–
If you'd like to see more recipes from Starts at 60, click here. And if you have a recipe you'd like to share with the Starts at 60 community – we'd love to share it! Submit them to us by completing the form below.
Submit your article here
Comments