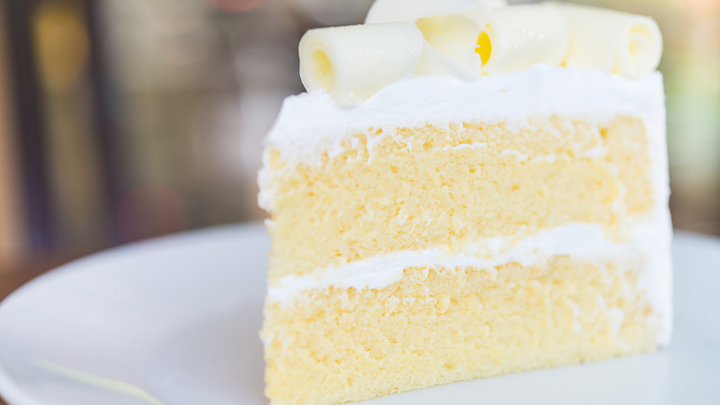 We love simple recipes here at Starts at 60, and this three ingredient cake really takes the… well, cake!
People all around the world are loving the simplicity of this dessert and we can see why: it's not only a cinch to make, it can be created by anyone of any skill level.
What are you waiting for?
Ingredients
550g white chocolate, chopped
750g cream cheese, chopped, softened
6 eggs, separated
Method
Preheat your oven to 130°C.
Place 250g of the white chocolate in a baking tray and put in the oven for 10 minutes, remove and stir.
Return to oven and roast, stirring every 5 minutes, for 25 minutes or until dark golden and caramelised.
Transfer melted chocolate to a heatproof bowl over a saucepan of simmering water, stirring for 3-4 minutes until smooth. Remove from heat and cool slightly.
Increase the oven to 150°C. Grease and line the base and sides of two 18cm springform cake pans with baking paper.
Add 250g cream cheese to caramelised chocolate and stir well to combine. Add the egg yolks and beat until eggwhites are stiff peaks. Fold eggwhites into the chocolate mixture.
Divide the mixture between prepared cake pans and bake for 1 hour 30 minutes or until cake springs back in the centre when pressed lightly.
Cool for 20 minutes, then transfer cakes in pans to the fridge to cool completely (cake will sink a little while cooling).
Icing
Melt 300g white chocolate in a heatproof bowl over a saucepan of water
Remove and add remaining 500g cream cheese to bowl. Beat on medium speed for 8 minutes or until smooth and glossy.
Take cakes out of pans and place one cake layer on a cake stand, then spread 1/2 cup cream cheese icing over the top. Top with second cake layer and spread remaining icing over the top and sides of the cake. Refrigerate until ready to serve.
—————————————————–
If you'd like to see more recipes from Starts at 60, click here. And if you have a recipe you'd like to share with the Starts at 60 community – we'd love to share it! Submit them to us by completing the form below.
Submit your article here
Comments