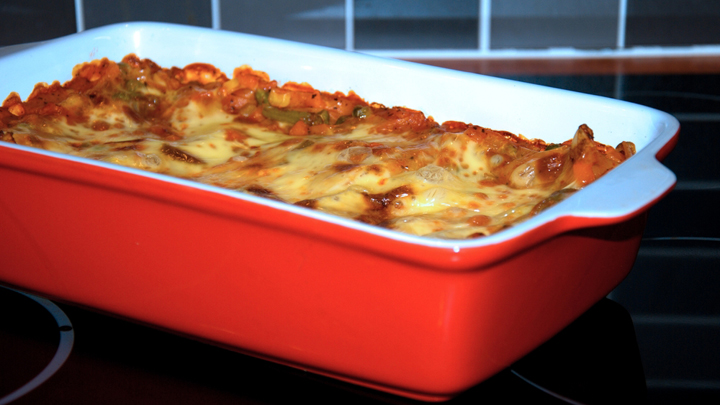 Forget your big, bulky lasagnes with meat, grains and dairy – this recipe is almost entirely made up of vegetables. It's delicious, good for you and easy to make… what more could you want?
This dish freezes fantastically and can be heated straight from the freezer when you are short on time. On top of that, it's a crowd pleaser!
1 x 450g of chopped tomatoes, strained
1 onion
2 garlic cloves
½ tsp red pepper flakes
½ tsp salt
1 tbsp of olive oil
1 egg
150g ricotta cheese
1 tbsp dried Italian herbs
½ cup shredded parmesan
½ cup mozzarella
1 large zucchini sliced long into ½ pieces
1 large yellow squash sliced long into ½ pieces
4 cups of baby kale, spinach or other dark leafy greens
Method
Preheat oven to 190 degrees
For the tomato sauce, saute onions in olive oil for 5 mins on low/medium heat
Once onions are cooked, add garlic and saute 2 more minutes
Add tomatoes, red pepper, and salt and bring to a boil, then reduce to simmer
Allow tomatoes to cook for at least 10 mins
In a bowl combine egg, ricotta cheese and herbs and stir well
Place 1/3 of the cooked sauce into a large baking dish
Layer zucchini on top of tomato sauce
Spread ½ ricotta mixture on top of zucchini
Layer with ⅓ more tomato sauce
Layer squash to top of tomato sauce
Spread ½ ricotta mixture on top of squash
Layer greens on top of squash
Top with remaining sauce, shredded cheese and bake covered for 30-40 mins until bubbly and cheese is slightly browned
—————————————————–
If you'd like to see more recipes from Starts at 60, click here. And if you have a recipe you'd like to share with the Starts at 60 community – we'd love to share it! Submit them to us by completing the form below.
Submit your article here
Comments