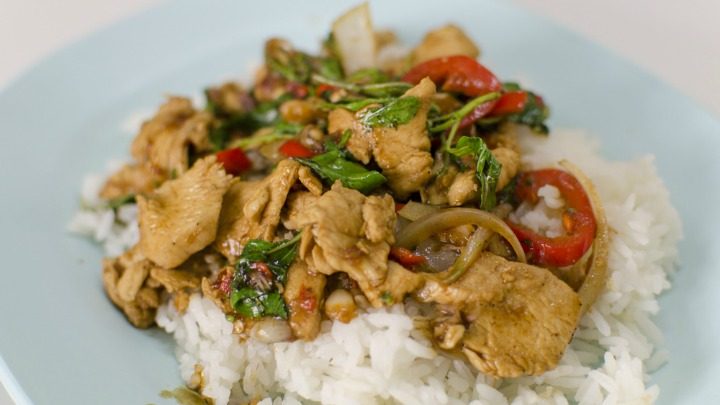 Not only is Thai food super tasty, it's also super easy to whip up yourself at home. This stir-fry has all the classic flavours you'd expect out of a delicious Thai dish and none of the fuss. In fact it's so easy you can cook the lot up in 20 minutes or less! Packed with ginger, garlic, and peanuts and topped off with fresh Thai basil, the aromas it delivers are truly mouth watering. You can control the heat with as much – or as little – chili as you like and serve the lot up with steamed rice. Enjoy!
Ingredients
500g boneless, skinless chicken breasts or tenders
1/4 cup oyster sauce
1/4 cup soy sauce
2 tablespoons sesame oil
4 cloves garlic, minced or grated
1 inch piece fresh ginger, peeled + grated
1/2 onion, sliced
1 red chili
1/2 cup raw cashews
1/2 cup snow peas, cut in half
2 cups fresh Thai basil (or regular basil)
Steamed rice, to serve
Method
1. Add the chicken to a bowl and toss with the oyster sauce and soy sauce. Let the chicken marinate 10 minutes.
2. Heat a large frying pan or wok over a medium heat. Add 1 tablespoon sesame oil. Add the garlic, ginger, onion and chili, cook 30 seconds or until fragrant. Increase the heat to medium high. Add another drizzle sesame oil and the chicken. Stir-fry over medium high heat until cooked through, about 5 minutes. Stir in the cashews and snow peas and cook another minute.
3. Remove from the heat and stir in basil. Serve with steamed rice and a sprinkling on basil.
—————————————————–
If you'd like to see more recipes from Starts at 60, click here. And if you have a recipe you'd like to share with the Starts at 60 community – we'd love to share it! Submit them to us by completing the form below.
Submit your article here
Comments