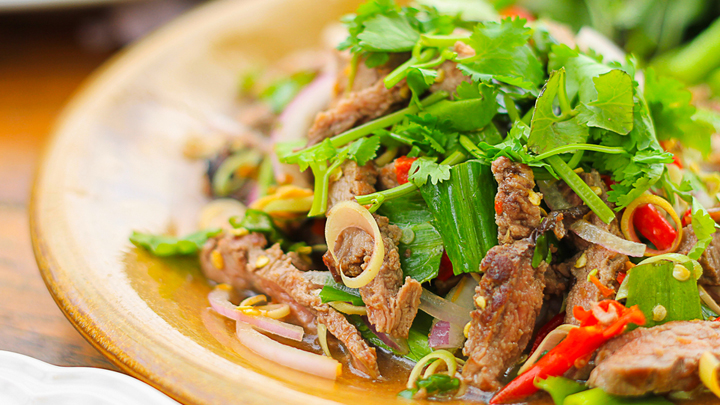 Here's a fresh, fragrant and fabulous Thai beef salad recipe for you to try. It's one of the classic dishes of Thai cuisine and we're not surprised – it's definitely one of our favourites.
Ingredients
500g beef fillet, trimmed
100g rice vermicelli
1 (130g) Lebanese cucumber, seeded, sliced thinly
1/2 cup fresh coriander leaves
1/3 cup fresh Thai basil leaves
10 cm stick (20g) lemongrass, crushed, sliced thinly
2 fresh kaffic lime leaves, shredded finely
2 (50g) french shallots
2 Tablespoons fried shallots
Thai dressing
2 fresh small red thai chillies, halved
1 clove garlic, quartered
1/4 teaspoon caster sugar
1/3 cup (80ml) lime juice
2 Tablespoons fish sauce
Method
Heat oiled grill (or BBQ) and cook beef until cooked as desired. Cover beef; stand for 5 minutes, then slice thinly.
Place vermicelli in a medium heatproof bowl, cover with boiling water; stand until tender, drain. Rinse under cold water, drain.
Thai dressing: using a mortar and pestle, crush chilli, garlic and sugar to a paste. Combine paste with remaining ingredients in a small bowl.
Combine beef, vermicelli, cucumber, herbs, lemongrass, lime leaves and sliced shallot in a large bowl.
Put salad among serving plates; drizzle with thai dressing, sprinkle with fried shallots!
—————————————————–
If you have a recipe you'd like to share with the Starts at 60 community – we'd love to share it! Submit them to us by completing the form below.
Submit your article here
Comments