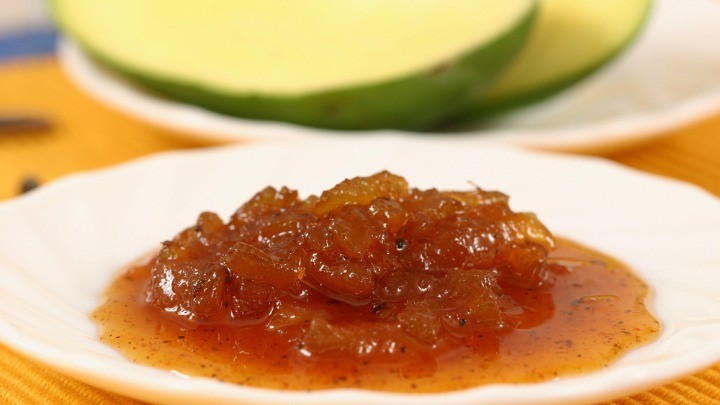 Ever wanted to try making your own mango chutney? This sweet condiment is perfect to serve along side indian styled curries, drizzled on top of  cream cheese for a party platter. This recipe can be made up to 4 weeks in advance and makes about 8 cups worth of chutney. Refrigerate after opening. Not suitable for freezing or microwaving.
Ingredients
2 tablespoons vegetable oil
1 tablespoon black mustard seeds
1/2 teaspoon cardamom seeds
1 1/2 tablespoons cumin seeds
2 medium (300g) onions, chopped
2 small fresh red chillies, chopped
5 cloves garlic, crushed
1 tablespoon grated fresh ginger
1 1/2 tablespoons ground coriander
3 teaspoons ground turmeric
6 medium (2.5kg) mangoes, peeled and chopped
1 cup (170g) raisins, chopped
1 and 1/3 cups (295g) caster sugar
2 teaspoons salt
1.5 cup (250ml) white wine vinegar
Method:
In a large heavy- based pan, heat the oil. Place seeds in the pan and cook until they pop, stirring constantly.
Add in the chillies, ginger, garlic and onions stirring until the onions are slightly browned.
Add the ground coriander and turmeric to the pan and stir until the mixture gives off a fragrant smell.
Take all remaining ingredients and add them to the pan and leave to simmer, uncovered for about 1.5 hours. Stir occasionally and wait for the mixture to thicken.
Transfer the chutney into sterilised jars and seal while hot.
If you'd like to see more recipes from Starts at 60, click here. And if you have a recipe you'd like to share with the Starts at 60 community – we'd love to share it! Submit them to us by completing the form below. 
Submit your article here
Comments