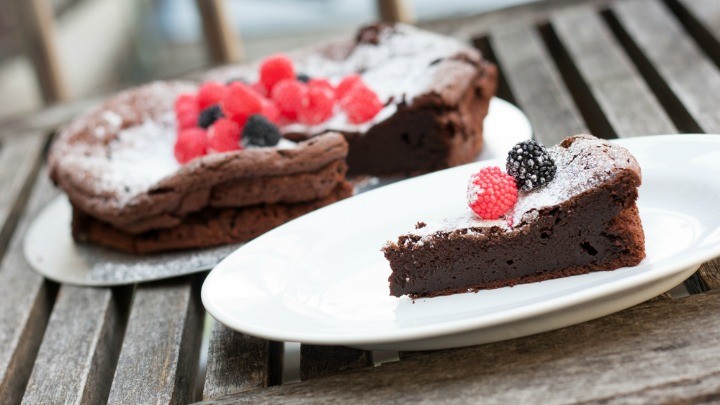 This gorgeously rich chocolate cake is the perfect way to start the weekend. Whip it up in the morning and enjoy it with a nice cuppa in the afternoon.
INGREDIENTS
1 cup unsalted butter, cut into pieces, plus more for the pan
1/4 cup unsweetened cocoa powder, plus more for the pan
1 1/4 cups double cream
225g 70% dark chocolate, chopped
5 large eggs
1 cup white sugar
1/2 cup crème fraîche or sour cream
1/4 cup caster sugar, plus more for dusting
DIRECTIONS
Heat oven to 175°C. Butter a 22cm springform pan and dust with cocoa powder.
In a medium saucepan, heat butter with ¼ cup of the double cream over medium-low heat until the butter is melted. Add the chocolate and stir until melted and smooth; remove from heat.
In a medium bowl, whisk together eggs, white sugar, and cocoa powder. Whisk in the chocolate mixture.
Transfer the batter to the prepared pan and bake until puffed and set, 35 to 40 minutes. Let cool in the pan for 1 hour. Run a knife around the edge of the cake before releasing.
Using an electric mixer, beat the remaining 1 cup of double cream with the crème fraîche (or sour cream) and caster sugar until soft peaks form. Dust the cake with cocoa and serve with the whipped cream mixture.
Comments