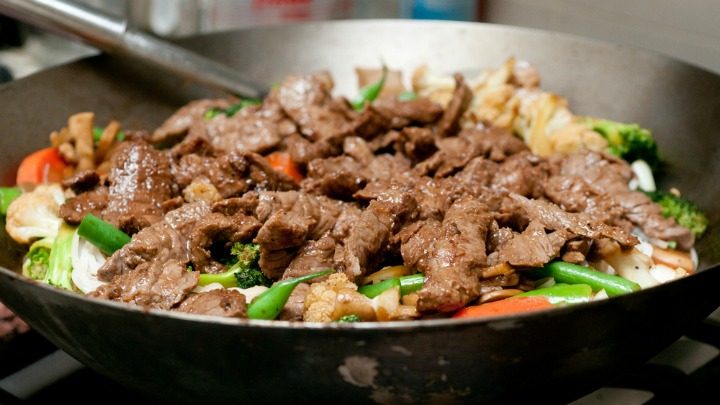 Sunday night calls for something easy and tasty and this stir-fry is just that! Packed with vegies and all the best Asian flavours, it only takes a few minutes to cook it all up in the wok and then you're tucking in to a delicious meal. There is a bonus fried rice recipe here, which really takes the meal to the next level. Serve them together with a sprinkling of coriander to finish!
Ingredients
1 tablespoon soy sauce
1/4 cup oyster sauce
1 1/2 tablespoons peanut oil
750g beef rump steak, trimmed, thinly sliced
1/2 medium brown onion, thinly sliced
2 garlic cloves, crushed
2cm piece fresh ginger, peeled, finely grated
6 green onions, sliced
1/2 cup broccoli, chopped
1 cup shredded Chinese cabbage (wombok)
150g green beans, trimmed, halved
Fried Rice
1 cup basmati rice
1 clove garlic, finely diced
1 small onion, finely sliced
Salt and pepper, to season
1/2 peas, thawed if frozen
Soy sauce, to taste
Method
1. Bring 1 cup of water in a medium saucepan to the boil, then add rice and cover with lid. Turn off heat and leave rice to cook. Meanwhile, combine soy sauce and oyster sauce in a small bowl. Heat a large wok over high heat until hot. Add 2 teaspoons oil. Swirl to coat. Stir-fry beef, in 3 batches, for 2 to 3 minutes or until just cooked through. Transfer to a bowl.
2. Make fried rice by adding garlic and onion to wok. Add cooked rice to pan and season with salt and pepper. Add peas and soy sauce to taste. Fry, tossing in pan for 1-2 minutes. Transfer to a seperate dish and cover to keep warm.
2. Add remaining oil to wok. Swirl to coat. Add brown onion and broccoli. Stir-fry for 1 minute or until softened. Add garlic and ginger. Stir-fry for 30 seconds or until fragrant.
3. Return beef and any juices to wok. Add green onion, cabbage, snow peas and soy sauce mixture. Stir-fry for 2 minutes or until vegetables are tender and sauce has thickened slightly. Serve with fried rice.
—————————————————–
If you'd like to see more recipes from Starts at 60, click here. And if you have a recipe you'd like to share with the Starts at 60 community – we'd love to share it! Submit them to us by completing the form below.
Submit your article here
Comments