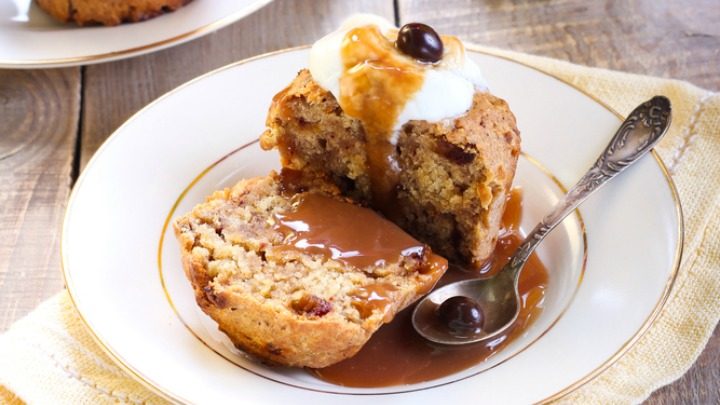 Sticky date pudding is a dessert favourite, but they can often be tricky to make and take a bit of messing about. Simplify things with these amazing muffins instead! They have all the rich, beautiful flavours of the pudding without any of the fussy baking techniques. This recipe makes about six muffins so feel free to double the quantities if you're entertaining guests or just want a few more for yourself! Serve warm out of the oven (or reheated in the microwave for 15 seconds) with caramel sauce and thickened cream. Yum!
Ingredients
200g pitted and chopped dates
1 teaspoon bicarb
50g butter, chopped
1/3 cup golden syrup
1/4 cup brown sugar
2 eggs
1 cup self-raising flour
Method
1. Preheat the oven to 180°C (160°C fan forced). Place cup cake papers into a 6-hole x 3/4-cup capacity muffin tray. Bring dates and 1 cup water to a boil in a saucepan and simmer until the dates soften. Mix dates with bicarb and set aside to cool.
2. Beat together butter, golden syrup and brown sugar then beat in eggs one at a time. Add flour and dates, mix well.
3. Pour mixture into muffin tray and bake for 25-30 min. Serve warm, topped with cream and caramel sauce.
—————————————————–
If you'd like to see more recipes from Starts at 60, click here. And if you have a recipe you'd like to share with the Starts at 60 community – we'd love to share it! Submit them to us by completing the form below.
Submit your article here
Comments