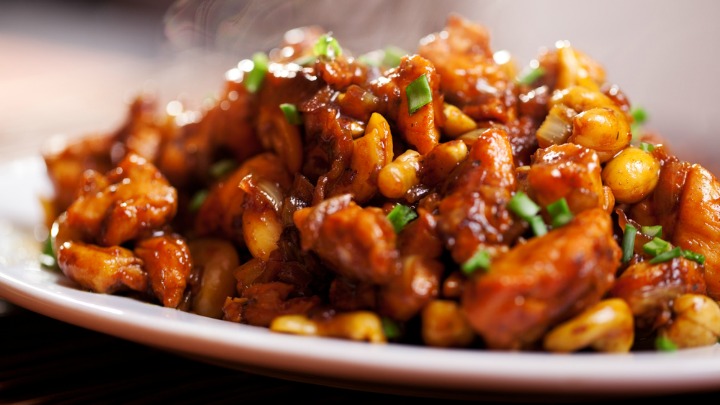 When it comes to good Chinese food, you can always count on it being full of flavour and packing a punch and this dish does just that! Forget about the dodgy chemicals found in takeaway shops, this version is all natural and spot on with the flavours. It's the perfect blend of sticky, sweet and a little bit spicy, too. Best of all, it only takes minutes to make as everything is mixed together in one bowl before being cooked up in the pan. We've added cashews to this version for a little extra crunch and texture and you can serve it with steamed rice and asian veggies or broccoli to finish.
Ingredients
1 tablespoon brown sugar
2 tablespoons honey
1/4 cup soy sauce
2 teaspoons chopped fresh ginger
2 teaspoons chopped garlic
2 tablespoons hot chilli sauce
salt and pepper to taste
1/2 cup unsalted cashews
4 chicken breast halves, cut into 1/2 inch strips
1 tablespoon vegetable oil
Method
1. Mix together brown sugar, honey, soy sauce, ginger, garlic and hot sauce in a small bowl. Lightly salt and pepper the chicken strips.
2. Heat oil in a large frying pan or wok over medium heat. Add chicken strips and brown on both sides, about 1 minute per side. Add cashew nuts. Pour the sauce over the chicken and nuts. Simmer uncovered until the sauce thickens, 8 to 10 minutes. Serve with steamed rice.
—————————————————–
If you'd like to see more recipes from Starts at 60, click here. And if you have a recipe you'd like to share with the Starts at 60 community – we'd love to share it! Submit them to us by completing the form below.
Submit your article here
Comments