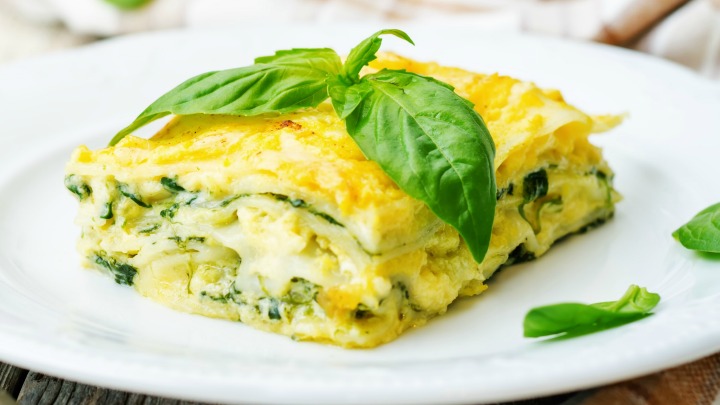 Lasagna is always a good idea and this lighter, fresher version is an absolute winner! Now we're into spring there are so many great vegetables available and this lasagna really takes advantage of that.
Packed with asparagus, ribbons of zucchini, peas, spinach and lovely ricotta cheese it brings the flavour and a bit of a health punch, too. Feel free to add a little sliced ham or cooked chicken breast if you want something a bit meatier. Serve up a nice big slice fresh out of the oven and enjoy!
Ingredients
30g butter
1/4 cup plain flour
1 1/2 cups milk
1 bunch asparagus, trimmed, thickly sliced
2 zucchini, cut into ribbons
2 green onions, trimmed, cut into 8cm lengths
1 bunch English spinach, trimmed
10 dried instant lasagne sheets
1 cup frozen peas
250g fresh ricotta
2 roma tomatoes, thinly sliced
2/3 cup chopped fresh basil leaves
1 cup grated pizza cheese
Method
Preheat oven to 200C. Melt butter in small saucepan over medium heat. Add flour. Cook, stirring, for 1 minute or until bubbling. Remove from heat. Gradually stir in milk until combined. Return to heat. Cook, stirring constantly, 3 minutes or until sauce boils and thickens. Remove from heat. Season with salt and pepper.
Bring a medium saucepan of salted water to the boil. Add asparagus, zucchini and onion. Boil for 2 minutes. Remove with slotted spoon. Drain on paper towel. Add spinach to pan. Cook for 1 minute or until wilted. Remove with slotted spoon. Squeeze out excess moisture when cool enough to handle. Roughly chop.
Cover the base of a 20cm x 28cm (8-cup capacity) ovenproof dish with 2/3 cup white sauce. Layer 1/4 lasagne sheets trimming to fit. Layer asparagus mixture, peas and 1/3 ricotta. Top with 1/3 of remaining lasagne sheets, 1/2 spinach, and 1/2 remaining ricotta. Repeat. Top with remaining lasagne sheets and remaining white sauce. Arrange tomato and basil leaves on top. Sprinkle with cheese.
Bake for 45 minutes or until golden and pasta is tender. Serve with extra basil leaves.
This Spring, Stockland is proud to be partnering with Jamie's Ministry of Food and local chefs around the country to bring you live cooking demonstrations right from the heart of their villages.
Click here to RSVP for an upcoming Spring Cooking Demonstration and Open Day, or call 1800 72 71 70 to arrange a visit at a preferred time. Not sure where the your nearest Stockland village is? Click here to find out.
Stockland warmly invites you to stop by your local village and see first-hand the wonderful freedom and peace of mind it can offer. Family members are welcome too! Click here to learn more.
Comments