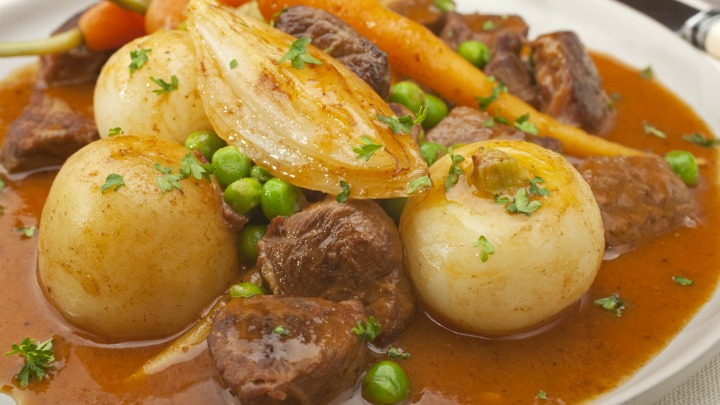 Who said healthy can't be hearty and tasty? This beautiful lamb stew is packed with veggies, herbs and lovey lamb to create the most comforting and delicious dinner! Best of all it's a breeze to make with everything thrown in the one pot and left to bubble away for two hours. Once it's cooked the meat is so tender it just falls apart on your fork, while the gravy is full of flavour and just waiting to be mopped up with a nice slice of thick toast. Yum!
Ingredients
2 tbsp extra virgin olive oil
30 g butter
1 kg (roughly) deboned lamb shoulder or neck, cut into 50 g pieces
1 medium carrot, diced
1 medium onion, diced
2 tbsp plain flour
3 ripe tomatoes, diced
3 cups chicken stock
2 cloves garlic, chopped
1 garnish bouquet, made up of a few sprigs of parsley, 2 sprigs of thyme and 1 bay leaf
salt and freshly ground black pepper
8 baby carrots
8 small turnips
200 g shelled peas
8 small onion
8 baby potatoes
Chopped parsley
Method
1. Preheat oven to 150°C. Heat a little oil and butter in an oven-proof casserole and brown the lamb pieces on all sides for a few minutes. Add the diced carrot and onion and stir for 2 minutes. Stir in the flour to coat the meat well, then add the tomatoes and stir for 1 minute. Add the stock, garlic and garnish bouquet. Mix well and season with salt and pepper. Cover with a lid and cook in preheated oven for about 2 hours.
2. Meanwhile, steam the baby carrots, turnips, peas, small onions and potatoes.
3. When the meat is tender, add the vegetables, stir well and reheat. Serve sprinkled with chopped parsley.
ENJOY!
This Spring, Stockland is proud to be partnering with Jamie's Ministry of Food and local chefs around the country to bring you live cooking demonstrations right from the heart of their villages.
Click here to RSVP for an upcoming Spring Cooking Demonstration and Open Day, or call 1800 72 71 70 to arrange a visit at a preferred time. Not sure where the your nearest Stockland village is? Click here to find out.
Stockland warmly invites you to stop by your local village and see first-hand the wonderful freedom and peace of mind it can offer. Family members are welcome too! Click here to learn more.
Comments