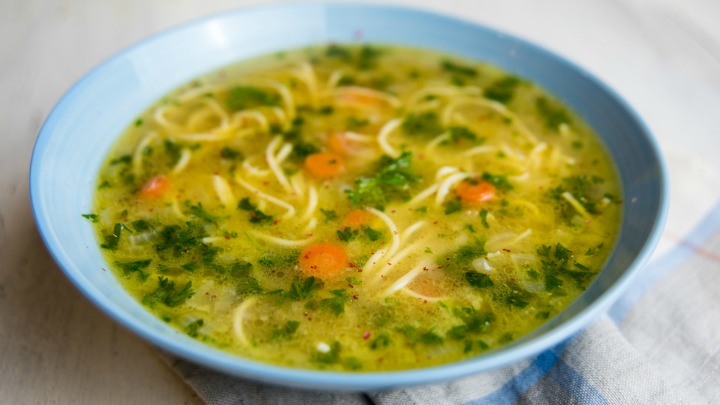 With spring well and truly here it's time to transition out of winter cooking and into something a little lighter and fresher. For those nights when the cold is still creeping in though, this lovely soup really hits the spot. Making the most of the best spring veggies, it's packed with gorgeous caramelised leeks, zucchini and celery. The chicken is lightly browned before being added to the stock and does the rest of its cooking in there so it turns out tender and full of flavour. Sprinkle over a little parsley when serving and dish it up with a nice slice of crusty bread and plenty of butter. Enjoy!
Ingredients
2 tablespoons of olive oil
1/2 teaspoon diced garlic
2 large leeks, sliced
Salt and cracked black pepper, to taste
6 cups of chicken stock
1 zucchini, diced
1 carrot, diced
1/2 cup diced celery
3 spring onions, sliced
2 cups diced cooked chicken
250g of rice noodles
Parsley, to serve (optional)
Method
1. In a large saucepan add in the olive oil, garlic and sliced leeks and cook on a low heat for about 8-10 minutes until leeks are golden and caramelised. While they are cooking add in cracked pepper and salt.
2. Add in the chicken stock, zucchini, carrot, celery, 2 of the sliced spring onions and simmer on a moderate heat until the zucchinis are tender. Add chicken and boil for another 2 minutes. Add in the rice noodles and reduce the heat to low and simmer for 2 minutes until the noodles are soft. Sprinkle through the remaining spring onions and serve topped with parsley.
ENJOY!
This Spring, Stockland is proud to be partnering with Jamie's Ministry of Food and local chefs around the country to bring you live cooking demonstrations right from the heart of their villages.
Click here to RSVP for an upcoming Spring Cooking Demonstration and Open Day, or call 1800 72 71 70 to arrange a visit at a preferred time. Not sure where the your nearest Stockland village is? Click here to find out.
Stockland warmly invites you to stop by your local village and see first-hand the wonderful freedom and peace of mind it can offer. Family members are welcome too! Click here to learn more.
Comments