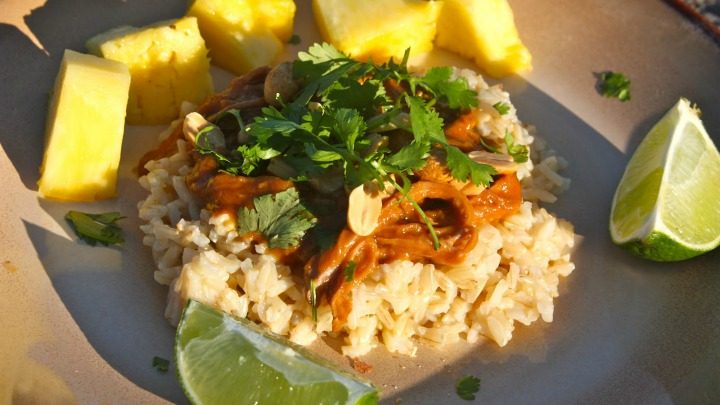 This recipe is a staple at Rebecca's house! It's one of the best slow cook recipes out there thanks to its unique flavour combinations of peanuts, ginger, garlic and salsa. The curry cooks over four hours giving it plenty of time for all those flavours to develop and for the chicken to turn into the most tender and succulent meat ever. Serve it up with steamed rice and a wedge of lime to squeeze over the top. Yum!
Ingredients
8 chicken thighs (about 1kg)
1 jar of salsa (Yes, salsa! It sounds strange, but it works. You'll find it near the corn chips at the supermarket)
1/4 cup of peanut butter
2 tablespoons lime juice
1 tablespoons soy sauce
1 tablespoon crushed ginger
1/2 bunch coriander, chopped, to serve
1/4 cup of peanuts, crushed up into small chunks, to serve
Method
1. Chop the chicken into large chunks (not too small or it will disintegrate too much during cooking)
2. Make a paste of the salsa, peanut butter, lime juice, soy and ginger.
3. Add to the chicken in a crock pot/slow cooker and cook on high for 3-4 hours until chicken is cooked.
4. Serve on a bed of rice. (Or quinoa if you are looking for a healthy option).
5. Garnish with a large handful of chopped coriander and a sprinkling of crushed unsalted peanuts.
—————————————————–
If you'd like to see more recipes from Starts at 60, click here. And if you have a recipe you'd like to share with the Starts at 60 community – we'd love to share it! Submit them to us by completing the form below.
Submit your article here
Comments