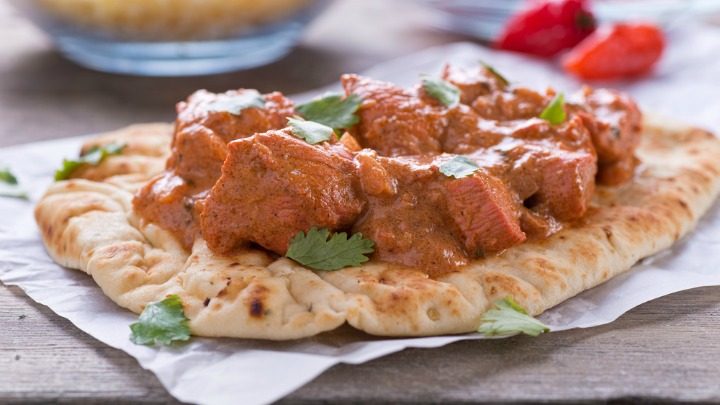 It's slow cooker season again, which means warm and comforting meals that are super easy to make. This butter chicken is a classic Indian dish and taste so much better than the takeaway version. All you need is a few key ingredients and some spices and you're halfway to a delicious dinner. Serve it with warm naan bread, which you can buy at most supermarkets, or on a bed of steamed rice. Enjoy!
Ingredients
2 tablespoons butter
2 tablespoons vegetable oil
4 large skinless, boneless chicken thighs, cut into bite-sized pieces
1 onion, diced
3 cloves garlic, diced
2 teaspoons curry powder
1 tablespoon curry paste
2 teaspoons tandoori curry paste
1 teaspoon garam masala
170g tomato paste
5 green cardamom pods
1 cup low-fat plain yogurt
400ml coconut milk
Naan or steamed rice, to serve
Coriander, to serve (optional)
Method
Melt the butter and vegetable oil in a large skillet over medium heat. Stir in the chicken, onion, and garlic. Cook and stir until the onion has softened and turned translucent, about 10 minutes. Stir in the curry powder, curry paste, tandoori masala, garam masala, and tomato paste until no lumps of tomato paste remain. Pour into a slow cooker, and stir in the cardamom pods, coconut milk, and yogurt. Season to taste with salt.
Cook on High 4 to 6 hours, or on Low 6 to 8 hours until the chicken is tender and the sauce has reduced to your desired consistency. Remove and discard the cardamom pods before serving.
—————————————————–
If you'd like to see more recipes from Starts at 60, click here. And if you have a recipe you'd like to share with the Starts at 60 community – we'd love to share it! Submit them to us by completing the form below.
Submit your article here
Comments