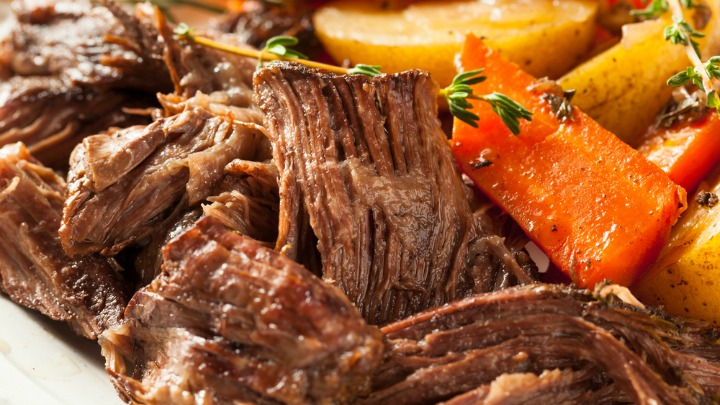 Pot roast is a great winter meal and this slow cooker version is just delicious! The meat and veggies cook for at least 6 hours making the beef is so tender and falls off the bone with ease. All the flavours are here, with herbs and veggies bringing it all together and the stock and tomato paste making the most tasty sauce – which you should definitely mop up with a nice slice of warm crusty bread!
Ingredients
1 (5 pound) bone-in beef pot roast
Salt and pepper to taste
1 tablespoon all-purpose flour, or as needed
2 tablespoons vegetable oil
225g sliced mushrooms
1 medium onion, chopped
2 cloves garlic, minced
1 tablespoon butter
1 1/2 tablespoons all-purpose flour
1 tablespoon tomato paste
2 1/2 cups chicken stock
3 medium carrots, cut into chunks
2 stalks celery, cut into chunks
1 sprig fresh thyme
Method
1. Generously season both sides of roast with salt and pepper. Sprinkle flour over the top until well coated, and pat it into the meat. Shake off any excess.
Heat vegetable oil in a large skillet over medium-high heat until hot. Sear the roast on both sides for 5-6 minutes each, until well browned. Remove from the skillet and set aside.
2. Reduce the heat to medium and stir in mushrooms and butter; cook for 3-4 minutes.
Stir in onion; cook for 5 minutes, until onions are translucent and begin to brown. Add garlic, stir for about a minute.
Stir in 1 1/2 tablespoons flour; cook and stir for about 1 minute. Add tomato paste, and cook for another minute.
Slowly add chicken stock, stir to combine, and return to a simmer. Remove skillet from the heat.
3. Place carrots and celery in the slow cooker. Place roast over the vegetables and pour in any accumulated juices. Add rosemary and thyme.
Pour onion and mushroom mixture over the top of the roast. Cover slow cooker, turn to high and cook the roast for 5-6 hours, until the meat is fork tender.
Skim off any fat from the surface and remove the bones. Season with salt and pepper to taste.
—————————————————–
If you'd like to see more recipes from Starts at 60, click here. And if you have a recipe you'd like to share with the Starts at 60 community – we'd love to share it! Submit them to us by completing the form below.
Submit your article here
Comments