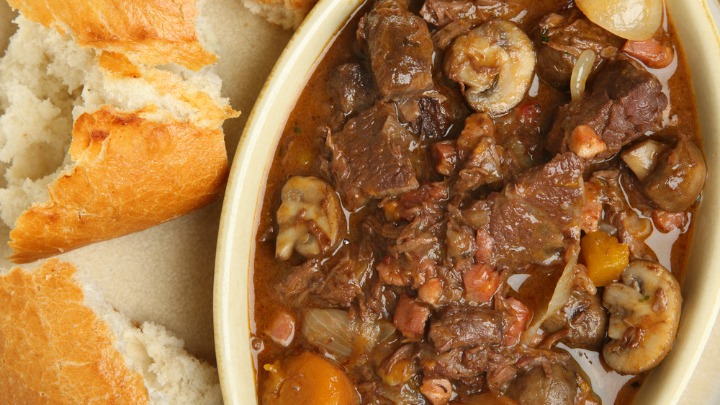 We can't get enough of slow cooked meals these days and this one is a total winner. Not only is it super tasty and comforting, it's cheap to make too and makes enough serves to last you a few meals throughout the week, which is always a bonus. You can serve it on a bed of buttery mashed potatoes or with a few slices of crusty bread, which you can use to mop up the delicious sauce at the end. Yum!
Ingredients
1 kg chuck steak (beef) cut into pieces
2 tbs plain flour
2 tbs oil
2 garlic clove minced
1 onion, roughly chopped
2 tbs tomato paste
400 g canned crushed tomato
2 carrot diced
1/2 cup button mushrooms, quarted
1 cup red wine
2 bay leaf
1 tsp dried rosemary
1 tsp dried thyme
1 tbs Worcestershire sauce
1 pinch seasoning *to taste
Method
1. Cut steak into 2.5 cm cubes. Coat beef cubes in plain flour.
2. Heat fry pan and add oil. Brown beef.
3. Add all ingredients into slow cooker and cook on high for 4-6 hours or low for 6-8 hours.
—————————————————–
If you'd like to see more recipes from Starts at 60, click here. And if you have a recipe you'd like to share with the Starts at 60 community – we'd love to share it! Submit them to us by completing the form below.
Submit your article here
Comments