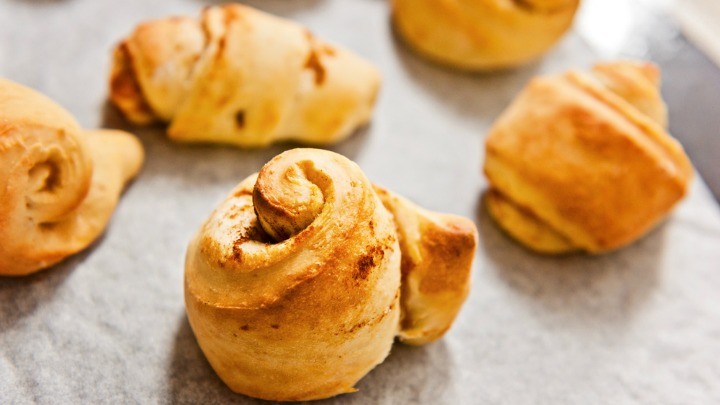 If you are looking for a quick and easy recipe to make delicious cinnamon rolls then look no further! Using pre-made pizza dough the results taste just like the cinnamon rolls you know and love. They are great if you don't have a lot of time and very convenient to pack away for a picnic or a snack to tide you over from lunch.
Ingredients:
For the Knots:
1/4 cup granulated sugar
450g pizza dough
2 teaspoons ground cinnamon
3 tablespoons unsalted butter, at room temperature
1/4 cup brown sugar
For the Cream Cheese Glaze:
1/4 teaspoon vanilla extract
1 tablespoon butter, at room temperature
1 cup powdered sugar
1 tablespoon cream cheese, at room temperature
1 tablespoon milk
Method:
1. Preheat oven to 190 C. Place a square of baking paper on a large baking tray.
2. Lightly flour a surface before rolling out the pizza dough into a rectangle. Sprinkle with brown sugar after spreading 2 tablespoons of soft butter onto the pizza dough. In a small bowl, combine granulated sugar and cinnamon before sprinkling cinnamon sugar mixture over the brown sugar. remember to reserve about 2 teaspoons for the top of the knots.
3. Fold and then cut the dough into 12 equal strips. Tie each strip into a knot-over, under, and through before placing each knot 2 inches apart on the prepared baking sheet.
4. Take the remaining tablespoon of butter and melt it in order to coat lightly each knot. Then sprinkle with the remaining cinnamon sugar mixture. Place the baking sheet with the knots on it into the oven and bake for 18-20 minutes, or until knots are golden brown. The cinnamon sugar mixture might get gooey in the oven and that is expected. Remove the baking sheet from oven and let knots cool to room temperature.
5. While the knots are cooling, start making the glaze. Using a medium bowl, whisk together the butter and cream cheese. Next whisk in the powdered sugar and add the milk and vanilla extract. Whisk until the glaze is smooth and then drizzle glaze over the cooled cinnamon roll knots and serve!
If you'd like to see more recipes from Starts at 60, click here. And if you have a recipe you'd like to share with the Starts at 60 community – we'd love to share it! Submit them to us by completing the form below. 
Submit your article here
Comments