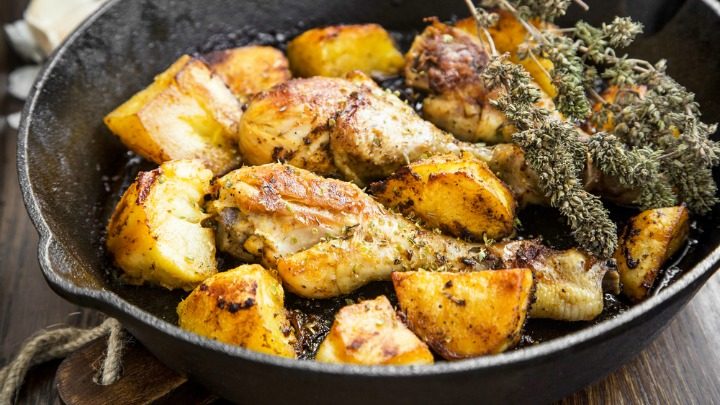 Lemon and sage are classic flavours to pair with chicken and this recipe really knows how to take it to the next level. You can throw everything into the one pan and roast it all up together for one truly delicious meal! The skin on the chicken turns out super crispy and flavoursome, while the potatoes are crunchy on the outside and fluffy on the inside. Serve the lot up with some nice steamed greens and enjoy!
Ingredients
8 whole garlic cloves
1/2 cup olive oil
1 Tablespoon honey
2 teaspoons salt
1-1/2 teaspoons freshly ground black pepper
Grated zest of 2 lemons
Juice of 2 lemons (about 1/2 cup)
1/2 cup chopped fresh sage leaves
6 bone-in chicken breasts or drumsticks, skin on
4-6 potatoes, washed, peeled, quartered
Method
1. Place garlic in a food processor and process to a puree. Add olive oil, honey,salt, and pepper, processing to combine. Add lemon zest, lemon juice, and sage. Pulse a few times until sage is rough-cut.
2. Pour the marinade into a zip-lock bag. Add chicken breasts, seal, and toss to coat the pieces. Open the bag, squeeze out all the air so the chicken is covered, then seal again. Refrigerate at least 6 hours or overnight.
3. Let sit at room temperature for 15 minutes before grilling or baking. Discard the used marinade.
4. Preheat oven to 180°C. Toss potatoes in a little olive oil and season with salt and pepper. Line a rimmed baking sheet with foil and insert a baking rack. Bake chicken and potatoes on rack for 40 to 45 minutes or until chicken juices run clear when inserted with a skewer. Crisp skin under broiler for a few minutes, if needed.
—————————————————–
If you'd like to see more recipes from Starts at 60, click here. And if you have a recipe you'd like to share with the Starts at 60 community – we'd love to share it! Submit them to us by completing the form below.
Submit your article here
Comments