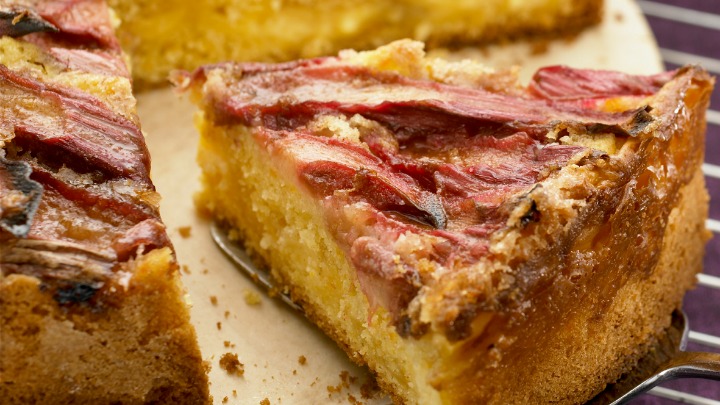 Rhubarb is one of those amazing fruits that unfortunately isn't in season for very long each year – so get it while you can! This beautiful tea cake is moist and smooth thanks to the custard layer in the middle, while the rhubarb is sweet and juicy on top. Make it for a special occasion or just for yourself if you like and store in an air-tight container in the fridge to keep fresh. Hint: take it out of the fridge 15 minutes before serving to bring it back to room temperature.
Ingredients
Custard
2 tablespoons custard powder
2 tablespoons caster sugar
1 1/2 cups Australian milk
20g Australian butter, chopped
2 teaspoons vanilla essence
Cake
180g Australian butter, softened
1 cup caster sugar
2 eggs, lightly beaten
1 1/4 cups self raising flour, sifted
1/3 cup custard powder, sifted
2 stalks (250g) rhubarb, thickly sliced diagonally
1/2 teaspoon ground cinnamon
1/2 teaspoon finely grated lemon rind
cream or ice cream, for serving
Method
1. Combine custard powder and sugar in a saucepan, gradually whisk in the milk. Stir over medium heat until the custard has thickened, stir in butter and vanilla. Cover the surface of the custard with plastic wrap and cool.
2. For the cake, beat butter and half of the sugar until light and creamy, add eggs one at a time and continue mixing until well combined. Fold in flour and custard powder.
3. Spread half the cake mixture over the bottom of a greased and lined 23cm spring form tin, layer with custard and dot remaining cake mixture on top, gently spreading with a spatula. Arrange rhubarb over the top of the cake and sprinkle with remaining sugar, cinnamon and lemon rind. Cover with foil and bake at 180°C for 35 minutes. Remove foil then cook a further 40 minutes or until firm. Cool slightly in the pan, before serving.
4. Serve warm or at room temperature with cream or ice cream.
—————————————————–
If you'd like to see more recipes from Starts at 60, click here. And if you have a recipe you'd like to share with the Starts at 60 community – we'd love to share it! Submit them to us by completing the form below.
Submit your article here
Comments