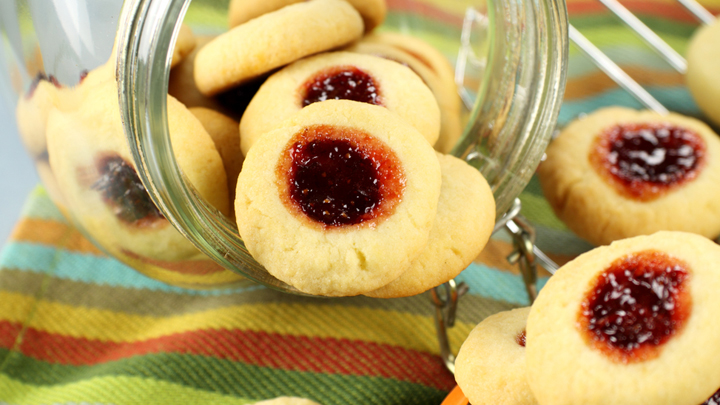 These little biscuits are so fabulously simple and great. It's an easy holiday biscuits to have around the house in case people pop by for a visit.
Ingredients: Makes 36 
1 cup butter, softened
2/3 cup white sugar
1/2 teaspoon almond extract
2 cups plain flour
1/2 cup seedless raspberry jam
1/2 cup icing sugar
3/4 teaspoon almond extract
1 teaspoon milk
Method
Prep: 30 minutes, cook: 14 to 18 minutes
Preheat oven to 175 degrees Celsius
In a bowl, cream together butter and white sugar until smooth.
Mix in 1/2 teaspoon almond extract and flour until dough comes together. Roll dough into 3cm balls, and place on ungreased baking sheets.
Make a small hole in the centre of each ball, using your thumb and finger, and fill the hole with preserves.
Bake for 14 to 18 minutes in preheated oven, or until lightly browned. Let cool for 1 minute on the baking sheet.

In a medium bowl, mix together the icing sugar, 3/4 teaspoon almond extract, and milk until smooth. 

Drizzle lightly over warm jam drops.
—————————————————–
If you have a recipe you'd like to share with the Starts at 60 community – we'd love to share it! Submit them to us by completing the form below.
Submit your article here
Comments