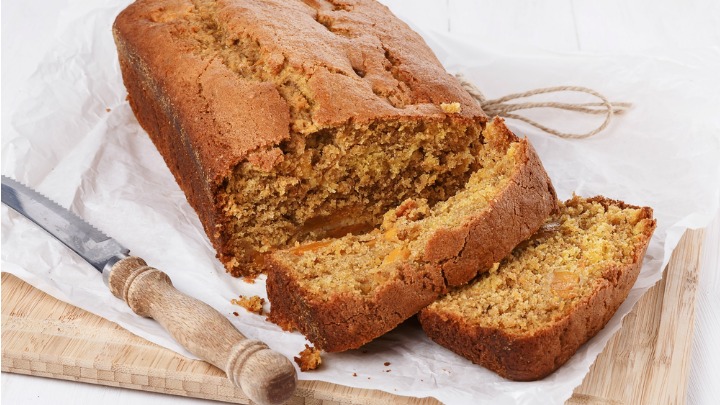 We can't get enough of this amazing recipe! While banana bread is great, it's nice to mix it up every now and again and this pumpkin bread is a great way to do just that.
The brown sugar adds an amazing depth of flavour and sweetness to the pumpkin, while the spices bring that lovely hum of warmth and comfort. It tastes amazing fresh out of the oven slathered with butter and enjoyed with a nice cup of tea. Enjoy!
Ingredients
650g butternut pumpkin, peeled, deseeded
100g butter, softened
1 1/2 cups brown sugar
2 eggs
2 cups self-raising flour
1/2 teaspoon bicarbonate of soda
1 teaspoon ground cinnamon
1/2 teaspoon ground nutmeg
1/2 teaspoon ground ginger
1/4 teaspoon ground cloves
1/2 cup walnuts
Method
1. Preheat oven to 180C. Grease base and sides of a 6cm deep, 10.5cm x 20.5cm (base) loaf pan. Line with baking paper, allowing a 2cm overhang at both long ends.
2. Wash and cut pumpkin into 4cm pieces. With water clinging, place pumpkin in a single layer on a microwave-safe plate. Cover with plastic wrap. Microwave on HIGH (100 per cent) for 3 to 4 minutes or until pumpkin is tender. Set aside to cool. Drain and place cooled pumpkin in a food processor. Process until smooth (you should have 1 cup).
3. Using an electric mixer, cream butter and sugar until pale and fluffy. Add eggs and beat until well combined. Stir in pumpkin.
4. Sift flour, bicarbonate of soda, cinnamon, nutmeg, ginger and cloves over pumpkin mixture, then add walnuts. Stir gently to combine. Spoon into prepared pan. Smooth surface. Bake for 50 to 55 minutes or until a skewer inserted into the centre comes out clean. Stand in pan for 10 minutes. Lift onto a wire rack. Serve warm or cold.
—————————————————–
If you'd like to see more recipes from Starts at 60, click here. And if you have a recipe you'd like to share with the Starts at 60 community – we'd love to share it! Submit them to us by completing the form below.
Submit your article here
Comments