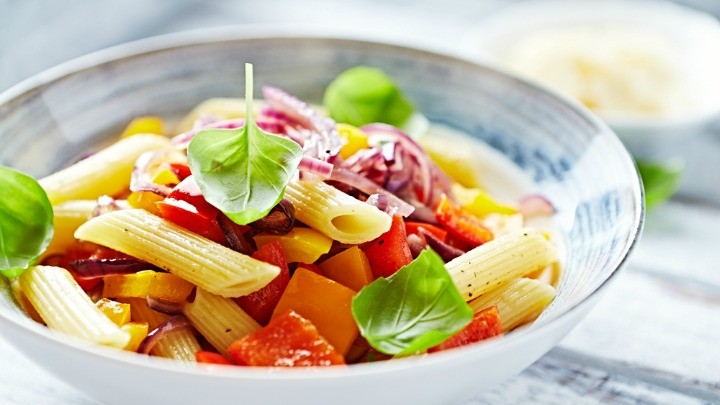 Simply thinking about this beautiful penne dish makes us hungry! If you love your pasta but want something a bit different from the classic spaghetti Bolognese this one is definitely worth a try.
Ingredients
3 tablespoons olive oil
sea salt
Freshly ground pepper
2 cups penne pasta
1 diced small eggplant
1 diced medium squash
1 cup halved cherry tomatoes
3/4 cup grated ricotta, plus a bit extra for serving
1/4 cup finely chopped basil, plus a bit extra for serving
Method
Preheat oven to 220 degrees.
On one half of the baking sheet arrange the eggplant and zucchini on the other half. Drizzle olive oil over the vegetables and season with pepper and salt. Combine ingredients by tossing. Roast vegetables for about 20 minutes or until golden. Give them a bit of a flip/stir after 10 minutes.
While vegetables are cooking, bring a large pot of salted water to the boil. Cook penne for the required time. Before draining reserve 1 cup of cooking liquid. Proceed to drain pasta.
Remove vegetables from the oven and pour onto pasta. Add ricotta and 1/2 cup of pasta water, stir to combine. If you wish to have a creamier paster add 1/4 cup liquid. Add chopped basil and season with salt and pepper as you combine.
Ready to serve, garnish with more ricotta and basil if you wish.
What is your favourite pasta dish?
—————————————————–
If you have a recipe you'd like to share with the Starts at 60 community – we'd love to share it! Submit them to us by completing the form below.
Submit your article here
Comments