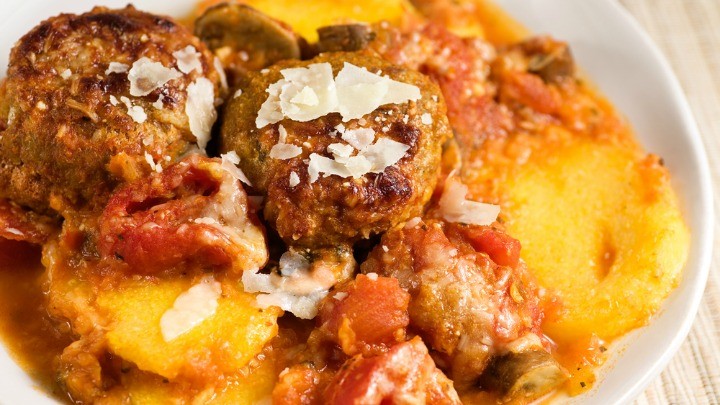 Save yourself some washing up tonight with this scrumptious Italian dish. This hearty meal is packed with the best Italian flavours, from rosemary and oregano to mozzarella and risoni pasta. The mozzarella is stuffed inside the meatballs, meaning you get a delicious cheesy burst every time you bite into one! Best of all, it's all cooked up in one big pan so you've got less to clean up afterwards. A win-win for everyone!
Ingredients
50g piece mozzarella
4 sprigs fresh rosemary
550g pork and veal mince
2 garlic cloves, finely chopped
1 tablespoon chopped fresh oregano
1 egg, lightly beaten
3/4 cup fresh breadcrumbs
1 1/2 tablespoons olive oil
1 medium brown onion, chopped
1 1/2 cups Campbell's Real Stock Chicken
2 x 410g cans tomatoes and paste
3/4 cup dried risoni pasta
Grated parmesan and oregano leaves, to serve
Method
1. Cut mozzarella into eight equal pieces. Remove leaves from 2 rosemary sprigs and finely chop. Combine mince, garlic, chopped rosemary, oregano, egg and breadcrumbs in a bowl. Season with salt and pepper. Mix well.
2. Shape 1/4 cup mince mixture into a ball. Flatten to form a disc. Place 1 piece of cheese in centre of disc. Shape mince into a ball to enclose cheese. Place on a baking paper-lined tray. Repeat with remaining mince mixture and cheese to make 8 large meatballs. Refrigerate for 30 minutes.
3. Preheat oven to 190C/170C fan-forced. Heat 1 tablespoon oil in an 8-cup capacity heavy-based, flameproof roasting pan over medium-high heat. Cook meatballs, turning, for 5 to 6 minutes or until browned all over. Transfer to a plate.
4. Heat remaining oil in pan. Add onion. Cook, stirring for 5 minutes, or until softened. Add remaining rosemary sprig. Cook, stirring, for 1 minute. Add stock and tomatoes. Bring to the boil. Stir in risoni. Season with salt and pepper. Return meatballs to pan.
5. Bake for 20 to 25 minutes, stirring gently halfway through cooking, or until risoni is tender and meatballs are cooked through. Discard rosemary sprig. Serve sprinkled with parmesan and oregano. You can serve the dish up with a side of baked polenta, as seen in the picture here or just eat it as is!
—————————————————–
If you'd like to see more recipes from Starts at 60, click here. And if you have a recipe you'd like to share with the Starts at 60 community – we'd love to share it! Submit them to us by completing the form below.
Submit your article here
Comments