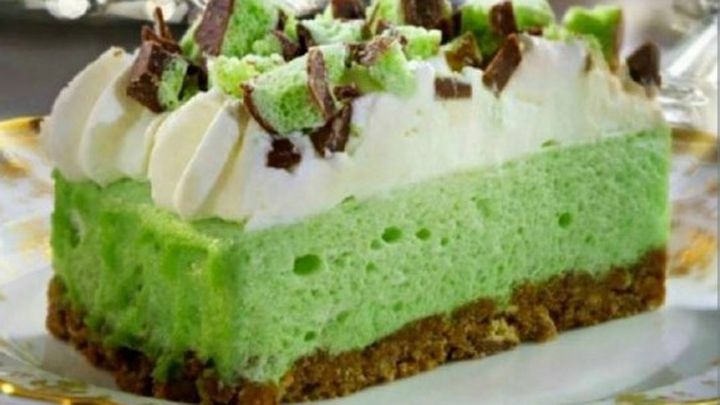 I don't know about you but one of my favourite indulgences is mint Aero chocolate. Its bubbliness is unlike other chocolates and its taste is pretty great too!
So why not combined your love for mint chocolate with cheesecake? This recipe is creamy, flavoursome and ready for your next gathering.
The best part of all is that this is a no bake recipe.
Ingredients
1 x 200g packet Milk Chocolate McVities Digestives
6 tbsp melted butter
4 eggs, yolks and whites separated
2 tbsp creme de menthe
2/3 cup sugar
2 packet unflavoured powdered gelatine
1 ½ cups heavy cream
1 large mint Aero bar
1 9-inch tart pan
Method
Blend the biscuits in a food processor until finely crumbed. Place in a large bowl and stir in the melted butter.
Pack the biscuits firmly into the bottom of the pan and refrigerate for at least 15 minutes.
Place the yolks, creme de menthe and sugar into a large mixing bowl over a pan of boiling water and whisk for about two minutes. Remove the bowl from the heat and whisk until the mixture is cold.
Soften the gelatine in 1 tbsp water in a small pan and place over a low heat to warm and dissolve the gelatine. Whisk the gelatine into the egg mixture.
Whip the egg whites until stiff and fold into the yolk mixture. Spoon onto the biscuit base and refrigerate for at least two hours.
Whip the cream in a large bowl until stiff and spread onto the top of the set egg mix.
Decorate with chopped mint Aero.
—————————————————–
If you'd like to see more recipes from Starts at 60, click here. And if you have a recipe you'd like to share with the Starts at 60 community – we'd love to share it! Submit them to us by completing the form below.
Submit your article here
Comments