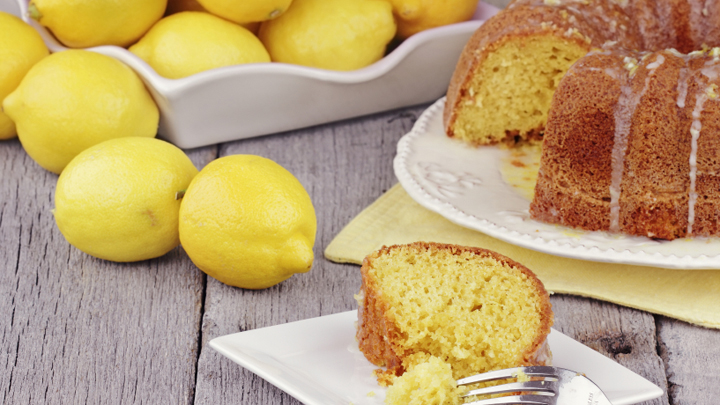 When lemons are in abundance why not treat yourself to a cake? This simple cake recipe has heaps of citrus flavour and stays moist because of the sour cream. The added candied lemon zest is the perfect topping to pair with your afternoon tea.
Ingredients
Servings: 8-10 
2 large eggs, beaten
300ml sour cream
335g (1 1/2 cup) caster sugar
Juice and grated rind of 2 lemons
450g (3 cups) plain flour, sifted
1 teaspoon bicarbonate soda, sifted
1/2 teaspoon salt
Candied zest
Juice and grated rind of 3 lemons
1 cup caster sugar
Method
Cooking time: 50 minutes
Preheat oven to 180C and grease ring cake tin well.
Put eggs, sour cream, sugar and lemon juice and rind in a large bowl and mix until combined. Gradually add the flour, bicarbonate of soda and salt, stirring constantly to form a smooth batter.
Pour the batter into the tin and bake in oven for 40 minutes or until a skewer inserted into the centre comes out clean
For the candied zest, heat the lemon juice and sugar in a saucepan over medium heat. Constantly stir for 10 minutes or until the sugar dissolves and a syrup forms. Then add the lemon zest and simmer for one minute.
Remove zest from syrup, discarding any liquid.
Top cake with candied zest before serving.
Tell us, will you try this recipe? Do you like lemon cake or do you prefer chocolate dessert?
Comments