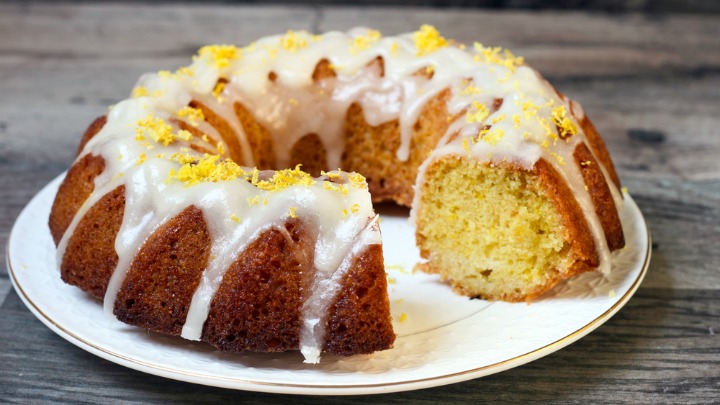 There's something so wonderful about lemon no matter time of year it is or what dish you're cooking. It's both refreshing and comforting at the same time and it's light zesty flavour makes it perfect for desserts and tea-time treats. This lemon drizzle cake is absolutely gorgeous and the addition of yoghurt and vegetable oil means that it's perfectly moist, too. Serve with tea or coffee and a drizzle of cream if you like!
Ingredient
1 1/2 cups plain flour
2 teaspoons baking powder
1/2 teaspoon salt
1 cup plain natural yogurt
1 1/3 cups sugar, divided
3 extra-large eggs
2 teaspoons grated lemon zest (2 lemons)
1/2 teaspoon pure vanilla extract
1/2 cup vegetable oil
1/3 cup freshly squeezed lemon juice
For the glaze:
1 cup icing sugar
2 tablespoons freshly squeezed lemon juice
Lemon zest, to sprinkle on top (optional)
Method
Preheat the oven to 180°C. Grease a ring cake tin.
Sift together the flour, baking powder, and salt into 1 bowl. In another bowl, whisk together the yogurt, 1 cup sugar, the eggs, lemon zest, and vanilla. Slowly whisk the dry ingredients into the wet ingredients. With a rubber spatula, fold the vegetable oil into the batter, making sure it's all incorporated. Pour the batter into the prepared pan and bake for about 50 minutes, or until a cake tester placed in the center of the loaf comes out clean.
Meanwhile, cook the 1/3 cup lemon juice and remaining 1/3 cup sugar in a small pan until the sugar dissolves and the mixture is clear. Set aside.
When the cake is done, allow it to cool in the pan for 10 minutes. Carefully place on a baking rack over a sheet pan. While the cake is still warm, pour the lemon-sugar mixture over the cake and allow it to soak in. Cool.
For the glaze, combine the icing sugar and lemon juice and pour over the cake. Top with a sprinkling of lemon zest to finish (optional).
—————————————————–
If you'd like to see more recipes from Starts at 60, click here. And if you have a recipe you'd like to share with the Starts at 60 community – we'd love to share it! Submit them to us by completing the form below.
Submit your article here
Comments