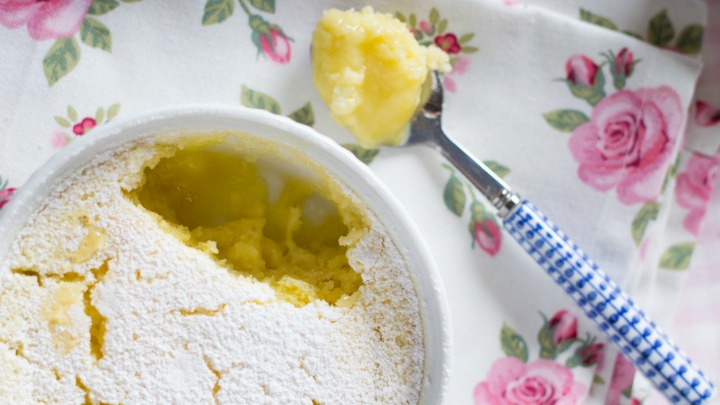 Lemon delicious is such a classic when it comes to comforting melt-in-your-mouth desserts and this one is extra special thanks to an added twist of lime! The pudding itself is so light and smooth and looks as pretty as a picture when served up and dusted with icing sugar. It's the perfect way to finish a winter meal, but really can be used all year-round thanks to its light, citrusy flavours. Enjoy!
Ingredients
60g softened butter, plus extra for greasing dishes
1 cup caster sugar
3 eggs, separated
4 tbsp self raising flour
1 cup milk
Juice of 1 lemon
Zest of 2 lemons
Zest and juice of 1 lime
Icing sugar, to dust
Method
1. Preheat oven to 180°C. Use six 200ml ramekins or a one-litre ovenproof dish. Grease ramekins or dish with butter, place in a large, deep baking pan and set aside.
2. Cream butter and sugar until light and fluffy, then add egg yolks. Add flour and milk alternately to make a smooth batter.
3. In a separate bowl, whisk egg whites until stiff peaks form. Fold into batter. Stir in combined lemon and lime juice and zest.
4. Divide mixture into ramekins or dish and pour hot water into baking pan to halfway up dishes. Bake in oven until set and browned: about 30 minutes for ramekins and up to one hour for a large dish.
5. Carefully remove from water bath before serving and dust with icing sugar.
—————————————————–
If you'd like to see more recipes from Starts at 60, click here. And if you have a recipe you'd like to share with the Starts at 60 community – we'd love to share it! Submit them to us by completing the form below.
Submit your article here
Comments