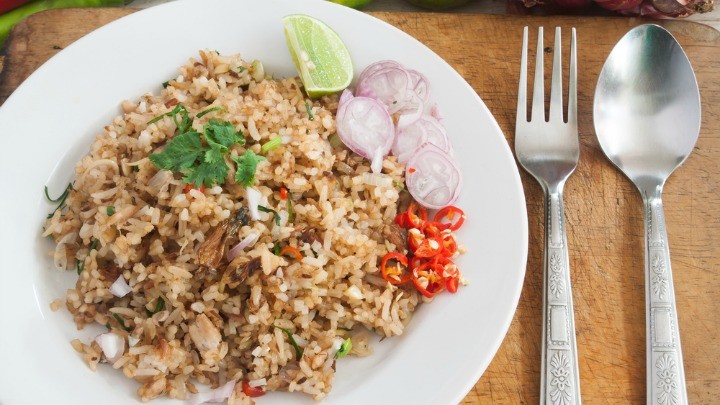 Here is a great recipe if you have some leftover cooked rice from the previous night's meal, or are just looking for a delicious and easy fried rice. Brown and white rice both work perfectly for this dish so you can use up whatever half opened packets you have in the pantry. If you are using leftover rice from the previous night, you will need around 1-2 cups of cooked rice. This recipe will serve two but can be doubled or halved for single or four servings.
You what you need:
1-2 cups of cooked rice (or 1 cup of uncooked rice)
1 1/2 eggs
1 tsp sesame oil
40ml vegetable oil
30ml light soy sauce
1 tbsp white sugar
1 1/2 cloves of garlic
4cm ginger, peeled and cut into small strips
1 stalk of celery, sliced finely
1/2 cup of cooked chicken, diced
1 1/2 tbs sesame seeds
1/4 bunch spring onions, sliced finely
125g bean sprouts (roughly half of a small packet)
1/2 handful of coriander leaves
1/2 green chilli, finely sliced.
What you need to do:
If you don't have cooked rice leftover you will need to boil the rice, as per packet instructions, drain and spread on a tray to cool for 25 minutes.
Crack the eggs into a bowl and add half a teaspoon of sesame oil. Lightly beat with a fork to combine.
Heat a wok or pan, add some vegetable oil and the egg mixture. Cook the eggs like an omelet, flip and remove from pan. Once cooked you can roll up the egg and chop it roughly.
In a separate bowl combine soy sauce, sugar and remaining sesame oil
Add some vegetable oil to the wok over a medium heat and fry the garlic and ginger for three minutes. Add celery to the wok and cook for one minute.
Place the cooked chicken and sesame seeds into the wok and cook for a further minute.
Add the cooked rice into the wok, sprinkling in evenly.
Add soy mix, stirring quickly.
Finally, add the omelette, spring onions and sprouts.
Serve with a sprinkle of coriander and chilli, and enjoy!
The best part about this dish is that you can add almost any leftover vegetables or meat you like! If you want to add some more flavour or use up the ingredients in your kitchen you could try adding corn, capsicum, pork sausages or chicken.
Will you give this recipe a go?
Comments