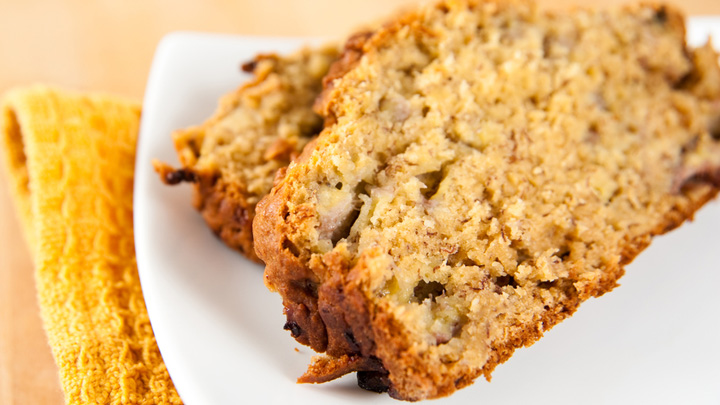 Looking for a moist, delicious banana bread? This Jamaican version of the classic recipe has a tangy lime and coconut twist you'll love!
Make it for a unique tea time treat this week.
Ingredients
2 tablespoons butter, softened
2 tablespoons tub light cream cheese, softened
1 cup sugar
1/4 cup packed brown sugar
1 large egg
2 cups self-raising flour (about 2 cups)
1/2 teaspoon bicarb soda
1/8 teaspoon salt
1 cup mashed ripe banana
1/2 cup fat-free milk
2 tablespoons dark rum
1/2 teaspoon grated lime rind
2 teaspoons lime juice
1 teaspoon vanilla extract
1/4 cup chopped pecans, toasted
1/4 cup flaked sweetened coconut
Method
1. Preheat oven to 200 degrees and grease a loaf tin.
2. Place 2 tablespoons softened butter and cheese in a large bowl; beat until well blended. Add 1 cup sugar, beating well. Add egg; beat well.
2. Combine flour, baking soda, and salt with a whisk, then banana, milk, rum, lime rind, lime juice and vanilla extract, stirring well. Add flour and banana mixtures alternately to butter mixture. Stir in 1/4 cup pecans and 1/4 cup coconut.
3. Pour batter into prepared pan then bake for 50 to 60 minutes or until skewer inserted comes out clean. Cool for 10 minutes then serve!
Comments