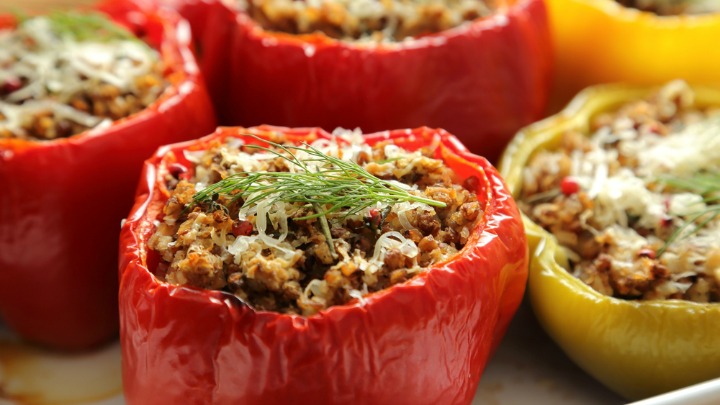 Mix up your weekly dinner menu a bit by adding these gorgeous stuffed capsicums to the table. They're packed with a delicious mince and rice filling that cooks to perfection inside the capsicum while it's roasting in the oven. You can use whatever coloured capsicums you like, but red and yellow work best as they're a bit sweeter than the green version. Add a side salad or some veggies if you like, but these babies are so filling you should be able to just enjoy them on their own!
Ingredients
1/4 cup olive oil
1 large brown onion, finely diced
2 cloves garlic, minced
500g pork and veal mince
2 cans diced tomatoes
1 tbsp dried oregano
3/4 cup uncooked long grain rice
6 capsicums
500ml chicken stock
Parmesan cheese, to sprinkle
Method
1. Preheat oven to 190°C. Heat oil in a large frypan and add onion and garlic. Saute until onions are soft. Add mince and fry until just browned. Add the crushed tomatoes, oregano and cinnamon. Simmer for 5 minutes. Add the rice and simmer for 15 minutes over a low heat.
2. Cut the stem end off the capsicum to expose the seeds inside. Remove the seeds and membrane from each capsicum, then place capsicums in a baking dish that will fit all 6. Fill each capsicum loosely with the meat mixture and replace the capsicum top. Pour the stock into the baking dish so it surrounds the base of each capsicum.
3. Cover baking dish with foil and bake for 1 1⁄2 hours. Remove from oven about 1 15 hours in, take the capsicum lid off and sprinkle over the parmesan. Return to oven and cook until cheese is golden on top. Serve immediately.
—————————————————–
If you'd like to see more recipes from Starts at 60, click here. And if you have a recipe you'd like to share with the Starts at 60 community – we'd love to share it! Submit them to us by completing the form below.
Submit your article here
Comments