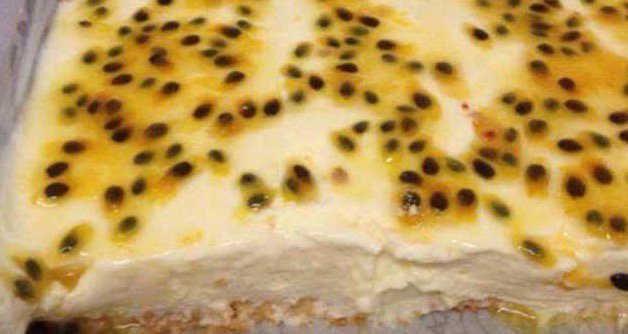 This passionfruit slice is one my friend bakes for every family occasion. In fact, it is one we all request her to make, so enjoy! This is a special and shareable treat that takes just a few minutes to whip up in the kitchen.
Ingredient
1 packet of Scotch Finger biscuits (250g)
1 can sweetened condensed milk (395g)
1/2 cup lemon juice
300ml thickened cream
2 teaspoons gelatine, dissolved in a quarter of a cup of hot water
2-3 fresh large passionfruit, or one small can of passionfruit pulp
Method
Line a baking tray with paper
Lay all the scotch finger biscuits on the base of the tray.
Whip the cream, and mix into it gently the condensed milk, gelatine water and lemon juice.   (Be careful not to crush the air in the cream.)
Spread the top with passionfruit, before putting in the fridge.
Refrigerate until set (4-6 hours approximately).
Remove from fridge and slice to serve.
Comments