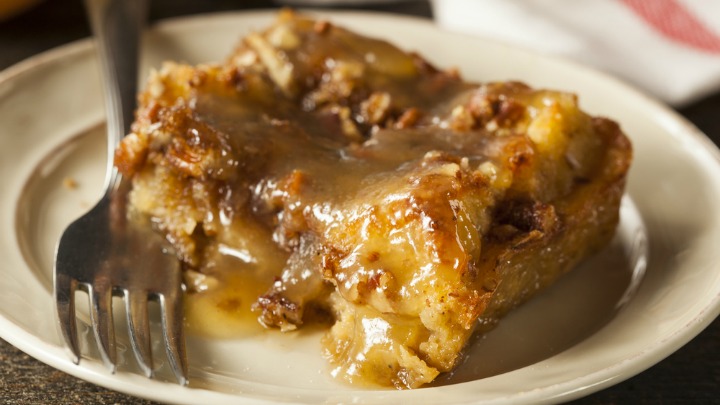 Well folks, this might be it… The absolute ultimate winter pudding! While bread and butter pudding is already a classic, it's the whisky caramel sauce that really take this dessert to the next level. It's rich and heavenly, with just the right amount of sweet and salty to balance it.
Serve it warm out of the oven with a nice scoop of vanilla ice cream or pour over some lovely thickened cream. Enjoy!
Ingredients
Whisky caramel sauce
1 1/2 cups caster sugar
2/3 cup water
1/4 cup salted butter, cubed
2 ounces cream cheese, cubed
1/4 cup Irish Whiskey
1/4 cup milk
Bread pudding
3/4 cup heavy cream
1 cup caster sugar
3/4 tablespoon vanilla extract
340g can evaporated milk
2 eggs, lightly beaten
3/4 cup Irish Whiskey Caramel Sauce (see above), divided use
Approximately 10 cups cubed French bread, (cut into 1/2 inch cubes)
1/2 cup raisins (or chocolate chips if you don't like raisins)
Cinnamon and sugar for topping (about 1 tablespoon cinnamon and 2 tablespoons sugar mixed to combine)
Method
1. Make whisky sauce first: Combine sugar and water in a small saucepan over medium-high heat. Stir until the sugar completely dissolves. Stop stirring and allow to simmer until mixture is golden (about 17 minutes). Do not stir. Remove from heat. Carefully add butter and cream cheese, whisking constantly until all clumps are dissolved. Mixture will be very hot and can bubble up during this time. Stir in whiskey and milk. Mixture will bubble a bit at this step as well. Set aside.
2. Make the bread pudding. In a large bowl, combine heavy cream, sugar, vanilla extract, evaporated milk, eggs, and 2/3 cup caramel whiskey sauce in a large bowl. Stir well with a whisk. Add bread cubes, using a spatula to push down and make sure each piece of bread is coated. Cover and allow to sit in the fridge for at least 30 minutes to soak up all the goodness.
3. Preheat oven to 180C. If using a casserole dish, spray a 13 x 9-inch baking dish with nonstick spray, or spray each ramekin with nonstick spray (approximately six ramekins). Pour bread mixture into prepared casserole dish, or divide between the prepared ramekins. Sprinkle top with cinnamon and sugar mixture and raisins or chocolate chips. Bake in preheated oven for 35 minutes or until set. Serve warm with more caramel-whiskey sauce.
—————————————————–
If you'd like to see more recipes from Starts at 60, click here. And if you have a recipe you'd like to share with the Starts at 60 community – we'd love to share it! Submit them to us by completing the form below.
Submit your article here
Comments