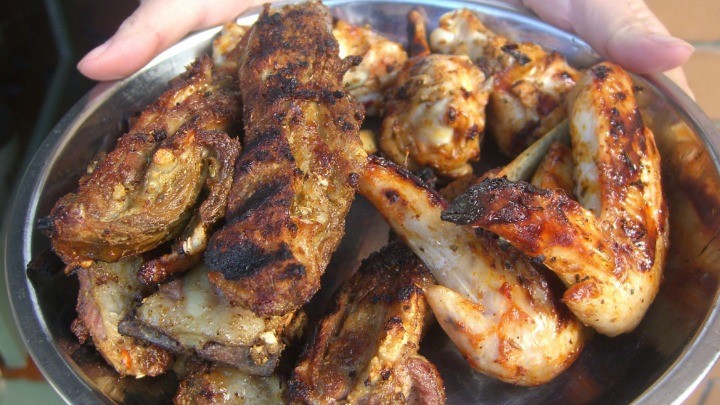 These amazing wings are so easy to whip up and pack a real punch when it comes to flavour. For the best results, marinate them overnight or for at least 6 hours so that all the favour absorbs into the chicken to create the ultimate honey-soy combo. The recipe suggests cooking them on a griddle pan to get that nice charred look before finishing them off in the oven, but you can also throw them on the barbie if you like for that gorgeous smokey flavour. Serve them up with steam basmati rice and Chinese broccoli, or a simple garden salad for a light yet tasty treat.
Ingredients
Ginger and honey marinade
5 spring onions, finely sliced
5 tbsp honey
2 tbsp soy sauce
1 red chilli, sliced
1-2 cm piece of ginger, grated
5 sprigs of thyme, leaves picked
Steamed rice, to serve
Method
1. Mix all the marinade ingredients in a bowl to make a sticky sauce.
2. Place the chicken wings in a single layer in a wide, shallow, baking dish. Pour the marinade over the chicken, cover with clingwrap and place in the fridge to marinate for 24 hours.
3. Heat a griddle pan until hot, then cook the wings for 15–20 minutes, turning often, until dark and the juices run clear when the chicken is pierced with a skewer. Finish the wings in the oven at 180C for 10–15 minutes to ensure they're cooked through.
—————————————————–
If you'd like to see more recipes from Starts at 60, click here. And if you have a recipe you'd like to share with the Starts at 60 community – we'd love to share it! Submit them to us by completing the form below.
Submit your article here
Comments