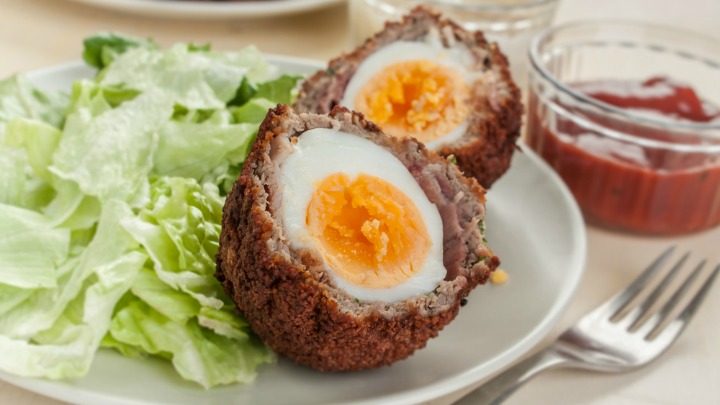 Although they were a popular snack in the 50s and 60s, scotch eggs have fallen by the wayside over the past few decades – and it's a crying shame! When made properly, they are full of bold flavours and are perfectly cooked with a crunchy outside and a slightly gooey egg centre on the inside. Despite their elaborate appearance, they are surprisingly easy to make and are perfect to take on a picnic, to a family lunch or to dish up at home for a simple meal.
Ingredients
10 large eggs, 2 beaten
800g sausage meat OR mince (pork, lamb, veal or beef)
1 small bunch fresh chives, finely chopped
1 small bunch parsley, leaves picked and finely chopped
1/2 teaspoon nutmeg
1 tablespoon English mustard
sea salt
freshly ground black pepper
plain flour, for dusting
150g breadcrumbs
2 litres vegetable oil
3 tablespoons vegetable or corn oil
Method
1. Put 8 of the eggs into a pan of cold water and bring to the boil. Boil for 3 to 4 minutes, then transfer to a bowl of cold water. Once cooled, carefully peel them.
2. Put the mince into a separate bowl with the chives, parsley, nutmeg, mustard and a good pinch of salt and pepper. Mix together well, then divide and roll into 8 balls.
3. Have 3 plates ready – one with a small handful of flour, one with the beaten eggs and a third with the breadcrumbs. To make the Scotch eggs, start by flouring your hands. In the palm of one hand, flatten one of the mince balls into an oval-shaped patty. Roll a peeled egg in flour, then pop it in the middle of the patty. Gently shape the meat evenly around the egg, moulding it with your hands.
4. Roll the meat-wrapped egg in the flour, shake off any excess, then dip into the beaten egg, followed by the breadcrumbs. Roll in the egg and breadcrumbs again for a really good coating.
5. Heat the oil in a deep pan or deep fat fryer to about 150ºC. If you have a cooking thermometer it's a good idea to use it. Otherwise, test if the oil is hot enough by adding a piece of potato and leaving it for about a minute – if it sizzles and browns, it's ready. Carefully lower the eggs into the pan and cook for about 4 minutes, turning them every so often, until golden. Remove with a slotted spoon and drain on kitchen paper. (If you're worried about the meat being under-cooked, deep-fry the scotch eggs until they're golden and crispy, then pop them in a hot oven for a couple of minutes.)
6. Cool the eggs slightly, then serve with toasted 'toy soldiers' and your choice of veggies or salad.
—————————————————–
If you'd like to see more recipes from Starts at 60, click here. And if you have a recipe you'd like to share with the Starts at 60 community – we'd love to share it! Submit them to us by completing the form below.
Submit your article here
Comments