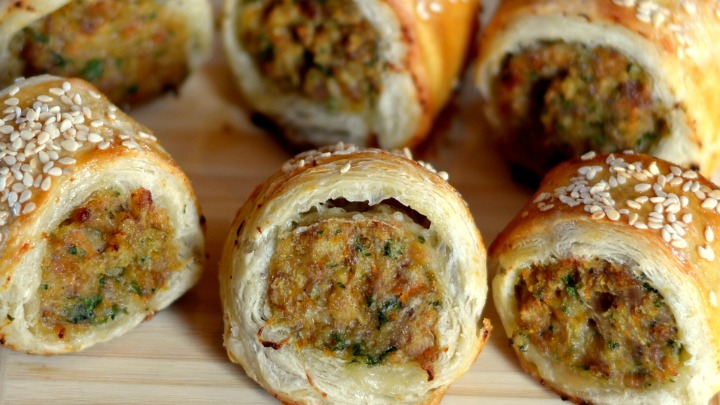 Crispy, golden, flaky pastry and a delicious mince filling… These sausage rolls are so much better than anything you'll get at the supermarket and even rival and really good bakery version. They're a lot healthier than any you'll buy as well, with veggies and herbs to bring extra flavour and tick off some of your daily two and five. The nutmeg adds an amazing depth in flavour and the fennel seeds really lift it to new heights. Encase the lot it buttery puff pastry and you've got yourself one amazing sausage roll. Serve with a squeeze of tomato sauce and enjoy for an easy meal with a salad, or cut them into bite-size pieces and give to the grandkids when they come over!
Ingredients
400g sausage mince
300g chicken mince
1 onion, finely chopped
1 clove garlic, crushed
1 medium carrot, grated
1 medium zucchini, grated
1 cup (65g) fresh breadcrumbs
3 tablespoons chopped parsley
1/2 teaspoon ground nutmeg
1/2 teaspoon fennel seeds
Salt & freshly ground pepper
2 eggs
3 sheets frozen puff pastry, semi thawed
1 tablespoon (10g) sesame seeds
Tomato sauce, to serve
Method
1. Preheat oven to 200°C. Line 2 baking trays with baking paper. Mix both minces, onion, garlic, carrot, zucchini, breadcrumbs, parsley, nutmeg, fennel seeds, and seasoning together. Beat 1 egg and add to mince mixture. Divide into 6 equal portions.
2. Cut pastry sheets in half. Roll a mince portion until 25cm long. Place down the centre of pastry. Beat remaining egg and brush edges.
3. Roll up to enclose filling, and cut into 6 pieces. Place on trays, seam side down. Brush with egg and sprinkle with sesame seeds. Bake for 20 mins, reduce heat to 180°C, and cook for 10 minutes until golden. Serve with tomato sauce.
—————————————————–
If you'd like to see more recipes from Starts at 60, click here. And if you have a recipe you'd like to share with the Starts at 60 community – we'd love to share it! Submit them to us by completing the form below.
Submit your article here
Comments