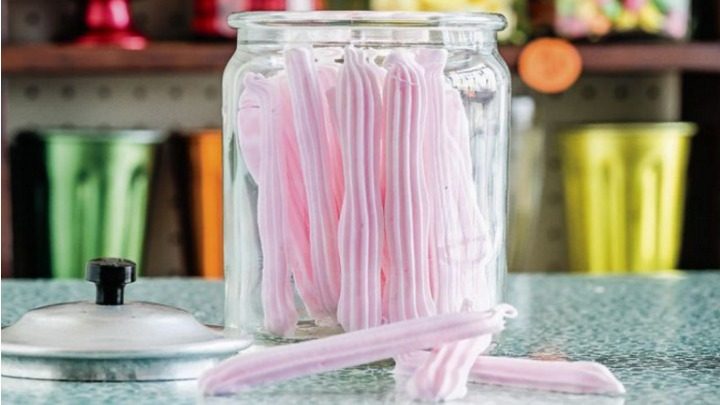 Milk bars just aren't what they used to be these days, but that doesn't mean you can't enjoy all of your old favourites! These musk sticks are the ultimate throwback with all the amazing musk and vanilla flavours they used to have. You can make a large batch and store them in an airtight container for a few months at a time.
Ingredients
Mild-flavoured cooking oil spray
4 small gelatine sheets (6 g in total), each about 7 cm x 11.5 cm (2¾ inches x 4¼ inches)
1 tablespoon liquid glucose
½ teaspoon good-quality musk essence
3 drops of pure vanilla extract
2 drops of red food colouring (optional)
250 g (2 cups) icing sugar mixture, sifted
Method
1. Spray two baking trays with cooking oil spray. Line the trays with baking paper. Soak the gelatine sheets in cold water for 5 minutes, or until soft and pliable. Drain and squeeze out the excess water.
2. Put the gelatine in a saucepan with the glucose and 60ml cold water. Stir over high heat until the gelatine sheets have melted. Remove from the heat and tip into the bowl of an electric mixer fitted with a whisk attachment.
3. When the mixture is cool, add the musk essence, vanilla and food colouring. Add 125g of the icing sugar and beat at low speed until well combined. Increase the speed to high and whisk for 1 minute, or until smooth and evenly coloured. Turn your machine off and add the remaining icing sugar. Mix in slowly, then increase the speed to high for about 3 minutes, to ensure it is all well incorporated, and a little like a thick, raw meringue mixture.
4. Put the mixture into a piping (icing) bag fitted with a 1cm star-shaped nozzle and pipe 10cm lengths onto the baking trays. Leave in a cool, dry place to set overnight. The musk sticks should be crisp and dry all the way through. They will keep in an airtight container for several months, but will soften over time.
—————————————————–
If you'd like to see more recipes from Starts at 60, click here. And if you have a recipe you'd like to share with the Starts at 60 community – we'd love to share it! Submit them to us by completing the form below.
Submit your article here
Comments