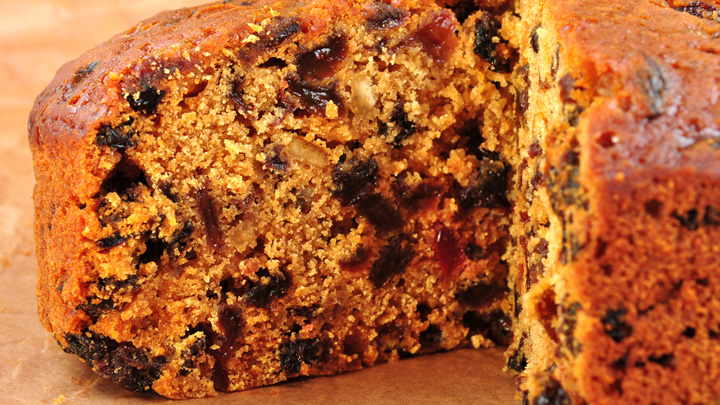 Christine has shared this beautiful traditional recipe with us today that has been passed down her family.
It has all the iconic Irish flavours and that warm Christmas-y feel we all love so much.
Christine says "With the left over whiskey I recommend you drink it until you pass out, then the stress of Christmas Day will not bother you! Merry Christmas".
Ingredients
450g raisins

450g sultanas

100g dates

100g glace cherries

50g prunes

50g glace pineapple

50g mixed peel

1 dessert spoon grated lemon rind

1/2 cup whiskey

1 dessert spoon grated orange rind

1/2 green apple

50g walnuts

5 eggs

1 cup castor sugar

200g butter

50g ground almonds 

2 cups plain flour

1/2 teaspoon nutmeg

1/4 teaspoon salt

1/2 teaspoon cinnamon

1/4 cup lemon juice

1/3 cup orange juice
Method
Stone prunes, chop all fruit and combine in large screw top jar with rinds, juices, whiskey and finely chopped apple. Shake jar well to mix ingredients evenly. Store jar in a cool dry place for 3 weeks. Reverse jar every day.

Chop walnuts, beat butter until soft, add sugar and heat until combined. Add eggs one at a time and beat well after each addition. Put fruit mix into large basin, add walnuts, ground almonds and creamed mixture, mix well. Stir in sifted dry ingredients.
Spread mixture into prepared 8″ deep square tin. Bake in slow oven for approximately 3 hours.
Remove from oven and brush with extra whiskey.
Comments