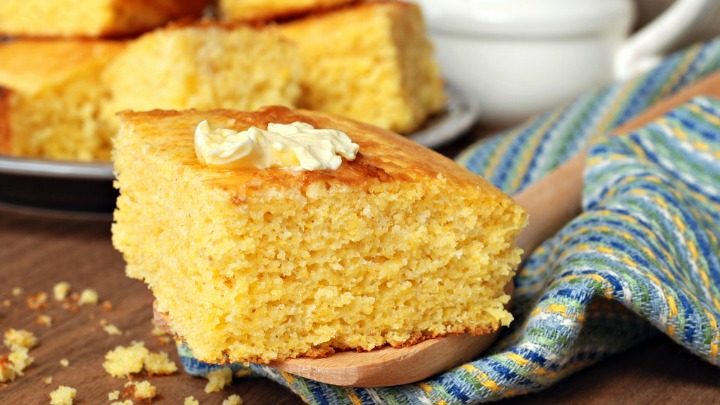 Cornbread has always been a very 'American' type of bread and hasn't found its way into many Australian kitchens. This really is a shame though as it's absolutely delicious and super easy to make. The balance between sweet and savoury ingredients means it works well with a whole range of dishes. You can serve it up with a steaming bowl of chili con carne, or slather it with butter and your favourite jam for an easy breakfast or snack. It's best made in a cast iron skillet, but if you don't have one on hand you can use a heavy-based cake tin instead.
Ingredients
1 1/2 cups cornmeal
1 1/2 cups plain flour
1 1/2 Tablespoons baking powder
1/2 cup caster sugar
1 1/2 teaspoons salt
1 1/2 cups buttermilk
1/4 cup plain greek yogurt (or sour cream)
3 eggs
4 Tablespoons butter, melted and warm
2 Tablespoons vegetable oil
1/4 cup + 2 Tablespoons honey
Extra butter, for greasing the skillet or cake tin and brushing on the baked cornbread
Method
1. Preheat the oven to 200°C. In a large mixing bowl, whisk together the cornmeal, flour, baking powder, sugar, and salt until well combined; set aside.
2. Place the cast iron skillet or cake tin inside the oven. In a separate bowl, whisk together the remaining ingredients until the eggs are fully incorporated. Pour the wet ingredients into the dry ingredients and whisk until just combined and no streaks of flour remain (don't over-mix the batter – it will be a little lumpy).
3. Remove the cast iron skillet or cake tin from the oven and coat the entire interior of the skillet or tin with butter until it's well-greased. Pour the batter into the hot, greased skillet or tin and spread the top with a spatula to even it out. Place in the oven and bake for 25 minutes, then drop the oven temperature down from 200ºC to 175ºC and continue to bake for an additional 10 to 15 minutes until the cornbread is well-risen, golden brown, and a toothpick emerges clean of any crumbs. (If at any point during baking you notice that the top is browning too quickly, place a tented piece of foil over the top.)
4. Once fully baked, remove from the oven and transfer skillet or tin to a wire rack. Add a few pieces of butter to the top of the bread, so they melt into it. Allow to cool about 10-15 minutes before serving.
—————————————————–
If you'd like to see more recipes from Starts at 60, click here. And if you have a recipe you'd like to share with the Starts at 60 community – we'd love to share it! Submit them to us by completing the form below.
Submit your article here
Comments