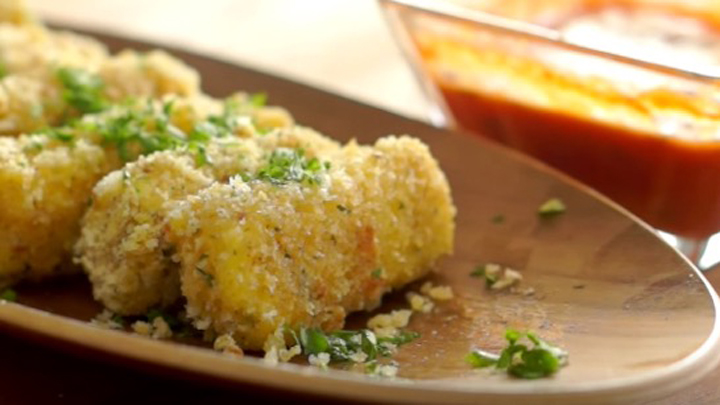 Mozzarella sticks are a bit of a craze at the moment – it seems everyone's loving them! They're cheesy and a fun snack to have.
Plus, they're easy to make and a real hit. Give them a try this week!
Ingredients
12 sticks mozzarella string cheese
2 cup breadcrumbs
1/4 cup grated parmesan cheese
1/2 tsp sea salt
1/4 tsp ground black pepper
1 cup all-purpose flour
2 large eggs
2 Tbsp milk
2 Tbsp salted butter, melted
sauce for dipping
Method
Preheat the oven to 200. Cut each cheese stick in half.
Pour the flour into a wide bowl. In a second bowl, mix the eggs and milk together. In a third wide bowl, mix the breadcrumbs, parmesan, salt and pepper together.
roll a mozzarella piece in the flour to coat it evenly. Then drop it in the bowl of eggs to coat with the egg wash. Then roll the mozzarella in the bread crumb mix to cover completely with the crumbs. Repeat with all of the mozzarella sticks.
Place the baking tray of breaded mozzarella sticks into the freezer for an hour.
After an hour, remove the cheese sticks from the freezer and drizzle or brush the melted butter evenly over the cheese sticks.
Bake the cheese sticks in the preheated oven for about 12-15 minutes, turning over halfway through the cooking time, until they are lightly browned and crisp on the outside.
Note: You can buy mozzarella cheese sticks here
Comments